28.11.2016 | Short Communication | Ausgabe 5/2017 Open Access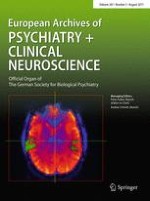 Repression of telomere-associated genes by microglia activation in neuropsychiatric disease
Autoren:

Golo Kronenberg, Ria Uhlemann, Johanna Schöner, Stephanie Wegner, Valérie Boujon, Nikolas Deigendesch, Matthias Endres, Karen Gertz
Wichtige Hinweise
Golo Kronenberg, Ria Uhlemann have contributed equally.
Abstract
Microglia senescence may promote neuropsychiatric disease. This prompted us to examine the relationship between microglia activation states and telomere biology. A panel of candidate genes associated with telomere maintenance, mitochondrial biogenesis, and cell-cycle regulation were investigated in M1- and M2-polarized microglia in vitro as well as in MACS-purified CD11b+ microglia/brain macrophages from models of stroke, Alzheimer's disease, and chronic stress. M1 polarization, ischemia, and Alzheimer pathology elicited a strikingly similar transcriptomic profile with, in particular, reduced expression of murine
Tert
. Our results link classical microglia activation with repression of telomere-associated genes, suggesting a new mechanism underlying microglia dysfunction.