21.08.2018 | Ausgabe 5/2018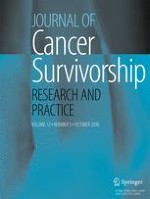 Reproductive and gynecological complication risks among thyroid cancer survivors
Zeitschrift:
Autoren:

Brenna E. Blackburn, Patricia A. Ganz, Kerry Rowe, John Snyder, Yuan Wan, Vikrant Deshmukh, Michael Newman, Alison Fraser, Ken Smith, Kimberley Herget, Jaewhan Kim, Anne C. Kirchhoff, Christina Porucznik, Heidi Hanson, Dev Abraham, Marcus Monroe, Mia Hashibe
Wichtige Hinweise
Electronic supplementary material
Abstract
Purpose
Thyroid cancer is the most rapidly increasing cancer in the USA, affects a young, mostly female population, and has high survival. The aim of this study was to determine if there is an increased risk of reproductive system adverse events or pregnancy complications among women diagnosed with thyroid cancer under the age of 50.
Methods
Up to five female cancer-free individuals were matched to each female thyroid cancer survivor diagnosed before the age of 50 based on birth year, birth state, and follow-up time, within the Utah Population Database. Medical records were used to identify disease diagnoses stratified over three time periods: 0–1, > 1–5, and > 5–10 years after cancer diagnosis. Cox proportional hazards models were used to estimate hazard ratios (HR) with adjustment on matching factors, race, BMI, and Charlson Comorbidity Index.
Results
There were 1832 thyroid cancer survivors and 7921 matched individuals. Thyroid cancer survivors had higher rates of having multiple health conditions associated with the gynecological system (15.4% vs. 9.4%) and pregnancy (14.3% vs 9.5%) > 1–5 years after cancer diagnosis. Increased risks persisted > 5–10 years after cancer diagnosis for menopausal disorders (HR = 1.78, 99% CI = 1.37, 2.33) and complications related to pregnancy (HR = 2.13, 99% CI = 1.14, 3.98). Stratified analyses showed these risks remained increased across different treatment types.
Conclusions
There were significant risk increases in reproductive system and pregnancy complications among female thyroid cancer survivors within this study.
Implications for Cancer Survivors
Although radiation has been linked to reproductive risks in previous studies, we found risks were increased in patients regardless of treatment.