25.07.2017 | Case Report - Neurosurgical Techniques | Ausgabe 9/2017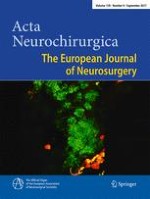 Rescue bypass for the treatment of pseudoaneurysm on the distal anterior cerebral artery: a case report of vertical side-to-side anastomosis of the distal callosomarginal artery-pericallosal artery
Zeitschrift:
Autoren:

Sung Ho Lee, Yeongu Chung, Ji Wook Ryu, Seok Keun Choi
Wichtige Hinweise
Comments
This case report describes trapping of a distal anterior cerebral artery pseudoaneurysm and side-to-side anastomosis between the callosomarginal and pericallosal arteries on the same side in a vertical plane. It is the first report of this kind of cerebral bypass technique and so is an original work that is of interest to our readership. The authors state that during side-to-side anastomosis in the horizontal plane arteriotomies are made at the 12 o'clock position in both arteries, and Fig.
5a
shows that this technique results in a 55-degree rotation of the vessels. However, our group performs the arteriotomies in the 3 o'clock and 9 o'clock positions during side-to-side anastomosis in the horizontal plane to prevent any twisting at all.
Fady T. Charbel,
Sophia F. Shakur
Chicago, IL, USA
Abstract
Pseudoaneurysm on the distal anterior cerebral artery (ACA) is rare but potentially fatal. It usually cannot be treated with typical treatment modalities. A 47-year-old female patient was diagnosed with a ruptured aneurysm on the pericallosal artery (PerA). During surgical exploration, it was found to be a pseudoaneurysm and could not be treated with clipping. We performed surgical trapping of the involved segment of the proximal PerA followed by side-to-side anastomosis between the ipsilateral PerA and the callosomarginal artery. The patient recovered without any neurologic deficit. This new method of anastomosis could be an alternative option.