01.12.2017 | Research | Ausgabe 1/2017 Open Access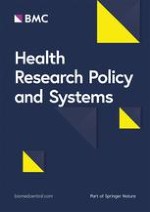 Research impact of systems-level long-term care research: a multiple case study
Zeitschrift:
Autoren:

Anita Kothari, Nedra Peter, Melissa Donskov, Tracy Luciani
Abstract
Background
Traditional reporting of research outcomes and impacts, which tends to focus on research product publications and grant success, does not capture the value, some contributions, or the complexity of research projects. The purpose of this study was to understand the contributions of five systems-level research projects as they were unfolding at the Bruyère Centre for Learning, Research and Innovation (CLRI) in long-term care (LTC) in Ottawa, Ontario, Canada. The research questions were, (1) How are partnerships with research end-users (policymakers, administrators and other public/private organisations) characterised? (2) How have interactions with the CLRI Management Committee and Steering Committee influenced the development of research products? (3) In what way have other activities, processes, unlinked actors or organisations been influenced by the research project activities?
Methods
The study was guided by Kok and Schuit's concept of research impacts, using a multiple case study design. Data were collected through focus groups and interviews with research teams, a management and a steering committee, research user partners, and unlinked actors. Documents were collected and analysed for contextual background.
Results
Cross-case analysis revealed four major themes: (1) Benefits and Perceived Tensions: Working with Partners; (2) Speaking with the LTC Community: Interactions with the CLRI Steering Committee; (3) The Knowledge Broker: Interactions with the Management Committee; and (4) All Forms of Research Contributions.
Conclusions
Most contributions were focused on interactions with networks and stimulating important conversations in the province about LTC issues. These contributions were well-supported by the Steering and Management Committees' research-to-action platform, which can be seen as a type of knowledge brokering model. It was also clear that researcher-user partnerships were beneficial and important.