01.04.2015 | Symposium: 2014 Bernese Hip Symposium | Ausgabe 4/2015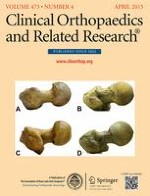 Residual Deformity Is the Most Common Reason for Revision Hip Arthroscopy: A Three-dimensional CT Study
Zeitschrift:
Autoren:

MD James R. Ross, MD Christopher M. Larson, MD Olusanjo Adeoyo, MD Bryan T. Kelly, MD Asheesh Bedi
Wichtige Hinweise
One or more of the authors has received funding outside of submitted work from an amount of less than USD 10,000 from Smith & Nephew (Andover, MA, USA) and A3 Surgical (La Tronche, France) (CML) and Smith & Nephew, Pivot Medical (Sunnyvale, CA, USA), and A3 Surgical (BTK, AB). One or more of the authors has stock/stock options in A3 Surgical (CML, AB) and A3 Surgical and Pivot Medical (BTK).
All ICMJE Conflict of Interest Forms for authors and
Clinical Orthopaedics and Related Research
®
editors and board members are on file with the publication and can be viewed on request.
Clinical Orthopaedics and Related Research
®
neither advocates nor endorses the use of any treatment, drug, or device. Readers are encouraged to always seek additional information, including FDA-approval status, of any drug or device prior to clinical use.
Each author certifies that his or her institution has approved the human protocol for this investigation, that all investigations were conducted in conformity with ethical principles of research, and that informed consent was obtained.
This work was performed at the University of Michigan, Ann Arbor, MI, USA.
Abstract
Background
Previous studies have reported residual deformity to be the most common reason for revision hip arthroscopy. An awareness of the most frequent locations of the residual deformities may be critical to minimize these failures.
Questions/purposes
The purposes of this study were to (1) define the three-dimensional (3-D) morphology of hips with residual symptoms before revision femoroacetabular impingement (FAI) surgery; (2) determine the limitation in range of motion (ROM) in these patients using dynamic, computer-assisted, 3-D analysis; and (3) compare these measures with a cohort of patients who underwent successful arthroscopic surgery for FAI by a high-volume hip arthroscopist.
Methods
Between 2008 and 2013, one senior surgeon (BTK) performed revision arthroscopic FAI procedures on patients with residual FAI deformity and symptoms after prior unsuccessful arthroscopic surgery; all of these 47 patients (50 hips) had preoperative CT scans. Mean patient age was 29 ± 9 years (range, 16–52 years). Three-dimensional models of the hips were created to allow measurements of femoral and acetabular morphology and ROM to bony impingement using a validated, computer-based dynamic imaging software. During the same time period, 65 patients with successful primary arthroscopic treatment of FAI by the same surgeon underwent preoperative CT scans for the symptomatic contralateral hip; this group of 65 patients thus fortuitously provided postoperative evaluation of the originally operated hip and served as a control group. A comparison of the virtual correction with the actual correction in the primary successful FAI treatment cohort was performed. Correspondingly, a comparison of the recommended virtual correction with the correction evident at the time of presentation after failed primary surgery in the revision cohort was performed. Analysis was performed by two independent observers (JRR, OA) and a paired t-test was used for comparison of continuous variables, whereas chi-square testing was used for categorical variables with p < 0.05 defined as significant.
Results
Ninety percent (45 of 50) of patients undergoing revision surgery for symptomatic FAI had residual deformities; the mean maximal alpha angle in revision hips was 68° ± 16° and was most often located at 1:15, considering the acetabulum as a clockface and 1 to 5 o'clock as anterior independent of side. Twenty-six percent (13 of 50) of hips had signs of overcoverage with a lateral center-edge angle greater than or equal to 40°. Dynamic analysis revealed mean direct hip flexion of 114° ± 11° to osseous impingement. Internal rotation in 90° of hip flexion and flexion, adduction, internal rotation to osseous contact were 28° ± 12° and 20° ± 10°, respectively, which were less than those in hips that had underwent hip arthroscopy by a high-volume hip arthroscopist (all p < 0.001).
Conclusions
We found marked radiographic evidence of incomplete correction of deformity in patients with residual symptoms compared with patients with successful results with residual deformity present in the large majority of patients (45 of 50 [90%]) undergoing residual FAI surgery. We recommend careful attention to full 3-D resection of impinging structures.
Level of Evidence
Level III, retrospective study, case series.