01.12.2017 | Geriatric Anesthesia (S Akhtar, Section Editor) | Ausgabe 4/2017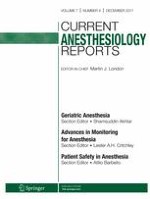 Residual Neuromuscular Blockade and Perioperative Outcomes in the Elderly
Zeitschrift:
Autoren:

Glenn S. Murphy, Torin Shear, Jeffrey Katz
Wichtige Hinweise
This article is part of the Topical Collection on
Geriatric Anesthesia
Abstract
Purpose of Review
The aim of this review is to assess clinical investigations which have examined the use of NMBAs in the elderly, and to recommend neuromuscular management strategies that may optimize recovery in this patient population.
Recent Findings
A number of clinical studies have assessed the effect of age on NMBA duration. Recovery from cisatracurium has been compared to steroid-based NMBAs (rocuronium and vecuronium) in the elderly. Variability in the duration of action was significantly greater with the steroid-based drugs than cisatracurium. Other studies have demonstrated that the elderly not only demonstrate prolonged recovery from rocuronium and vecuronium neuromuscular blockade, but also significantly more variability in the times to achieve full neuromuscular recovery. Furthermore, reversal of neuromuscular blockade with anticholinesterase agents may require significantly more time in patients older than 70 years of age. Recent clinical trials have demonstrated the elderly are at significantly increased risk for postoperative residual block. Furthermore, older patients not achieving a train-of-four ratio of greater than 0.9 at the time of tracheal extubation are at an increased risk of hypoxemic events, airway obstruction, and unpleasant signs and symptoms of muscle weakness. Reversal of neuromuscular blockade with sugammadex results in a low incidence of residual block; however, the times to achieve a train-of-four ratio of 0.9 are increased in patients over the age of 70.
Summary
The pharmacodynamics and pharmacokinetic effects of neuromuscular blocking agents are altered in the elderly. When steroid-based muscle relaxants are administered, the time required to achieve full neuromuscular recovery is increased, and significantly more variability in recovery times is observed. Patients over the age of 65 years are at an increased risk of postoperative residual neuromuscular blockade and complications related to incomplete neuromuscular recovery. Increased vigilance in managing dosing, monitoring, and reversal is required in the elderly in order to improve perioperative outcomes.