14.03.2018 | Original studies | Ausgabe 1/2019 Open Access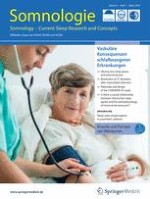 Resolution of ST deviation after myocardial infarction in patients with and without sleep-disordered breathing
Zeitschrift:
Autoren:

Dr. Ulrich Sterz, MD Stefan Buchner, MD Andrea Hetzenecker, MD Anna Satzl, MD Kurt Debl, MD Andreas Luchner, MD Oliver Husser, MD Okka W Hamer, PhD Claudia Fellner, MS Florian Zeman, MD Lars S Maier, MD Michael Arzt
Wichtige Hinweise
Electronic supplementary material
The original version of this article was revised due to a retrospective Open Access order.
The following authors contributed equally: Ulrich Sterz and Stefan Buchner.
This observational study was performed at the Universitätsklinikum Regensburg.
Abstract
Objective
The objective of this study was to test the hypothesis that ST elevation myocardial infarction (STEMI) patients with sleep-disordered breathing (SDB) have less resolution of ST segment deviation and more microvascular obstruction (MVO) after percutaneous coronary intervention (PCI) than STEMI patients without SDB.
Methods
In this prospective observational study, patients with STEMI and successful PCI were stratified based on the presence (apnea–hypopnea index [AHI] ≥ 15/h) or absence (AHI < 15/h) of SDB. ST deviations in electrocardiograms (ECGs) were analyzed according to standard criteria before PCI, and at 0–24 h and >24 h after PCI. MVO was assessed by cardiac magnetic resonance imaging.
Results
A total of 35 patients were enrolled, 18 with SDB and 17 with no SDB. Before PCI, median ST deviation was similar in the no SDB and SDB groups (0.094 [0.063–0.144] vs. 0.106 [0.055–0.132] mV,
p
 = 0.88). The no SDB group had significantly less residual ST deviation compared to the SDB group, both within 24 h (0.018 [0.012–0.039] vs. 0.052 [0.035–0.077] mV,
p
 = 0.01) and more than 24 h after PCI (0.016 [0.005–0.029] vs. 0.045 [0.017–0.097] mV,
p
 = 0.006). Multivariable linear regression models including established determinants for infarct size and myocardial ischemia showed that AHI was independently associated with higher ST deviation >24 h after STEMI (B [95% confidence interval, CI] 0.82 [−0.12; 1.51],
p
 = 0.024) and MVO (B [95% CI] 0.08 [0.01; 0.160];
p
 = 0.036).
Conclusion
SDB is associated with a lower relative reduction in ST deviations and more MVO after STEMI. The present findings suggest that SDB-related myocardial ischemia on the myocardium at risk takes place in the first days after STEMI.