01.12.2019 | Research article | Ausgabe 1/2019 Open Access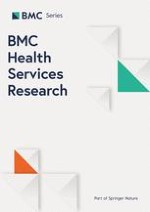 Responding to adverse patient safety events in Viet Nam
Zeitschrift:
Autoren:

Reema Harrison, Anurag Sharma, Merrilyn Walton, Esmond Esguerra, Seinyenede Onobrakpor, Bui Trung Nghia, Nguyen Duc Chinh
Wichtige Hinweise
Publisher's Note
Springer Nature remains neutral with regard to jurisdictional claims in published maps and institutional affiliations.
Abstract
Background
The psychological and professional impact of adverse events on doctors and nurses is well-established, but limited data has emerged from low- and middle-income. This article reports the experiences of being involved in a patient safety event, incident reporting and organisational support available to assist health professionals in Viet Nam to learn and recover.
Method
Doctors and nurses (1000) from all departments of a 1500-bed surgical and trauma hospital in Viet Nam were invited to take part in a cross-sectional survey. The survey explored respondents' involvement in adverse events and/or near miss, their emotional, behavioural and coping responses, experiences of organisational incident reporting, and the learning and/or other consequences of the event. Survey items also assessed the availability of organisational support including peer support and mentorship.
Results
Of the 497 respondents, 295 (59%) experienced an adverse event in which a patient was harmed, of which 86 (17%) resulted in serious patient harm. 397 (80%) of respondents experienced a near miss, with 140 of these (28%) having potential for serious harm. 386 (77%) reporting they had been affected professionally or personally in some way, with impacts to psychological health (416; 84%), physical health (388; 78%), job satisfaction (378; 76%) and confidence in their ability (276; 56%) commonly reported. Many respondents were unable to identify local improvements (373; 75%) or organisation-wide improvements following safety events (359; 72%) and 171 (34%) admitted that they had not reported an event to their organisation or manager that they should have.
Conclusions
Health professionals in Viet Nam report impacts to psychological and physical health as a result of involvement in safety events that reflect those of health professionals internationally. Reports of limited organisational learning and improvement following safety events suggest that patient safety culture is underdeveloped in Viet Nam currently. In order to progress work on patient safety cultures and incident reporting in Viet Nam, health professionals will need to be convinced not only that they will not be exposed to punitive action, but that learning and positive changes will occur as a result of reporting safety events.