01.12.2016 | Research | Ausgabe 1/2016 Open Access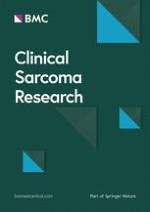 Response to anti-PD1 therapy with nivolumab in metastatic sarcomas
Zeitschrift:
Autoren:

L. Paoluzzi, A. Cacavio, M. Ghesani, A. Karambelkar, A. Rapkiewicz, J. Weber, G. Rosen
Wichtige Hinweise
Electronic supplementary material
The online version of this article (doi:
10.​1186/​s13569-016-0064-0
) contains supplementary material, which is available to authorized users.
Abstract
Background
Manipulation of immune checkpoints such as CTLA4 or PD-1 with targeted antibodies has recently emerged as an effective anticancer strategy in multiple malignancies. Sarcomas are a heterogeneous group of diseases in need of more effective treatments. Different subtypes of soft tissue and bone sarcomas have been shown to express PD-1 ligand.
Methods
We retrospectively analyzed a cohort of patients (pts) with relapsed metastatic/unresectable sarcomas, who were treated with nivolumab provided under a patient assistance program from the manufacturer. Pts underwent CT or PET/CT imaging at baseline and after at least four doses of nivolumab; RECIST 1.1 criteria were used for response assessment.
Results
Twenty-eight pts with soft tissue (STS, N = 24) or bone sarcoma (N = 4), received IV nivolumab 3 mg/kg every 2 weeks from July 2015. Median age was 57 (24–78), male:female ratio was 14:14; the median number of nivolumab cycles was eight. Eighteen pts concomitantly received pazopanib at 400–800 mg daily. The most common side effect was grade 1–2 LFT elevations; grade 3–4 toxicity occurred in five patients (colitis, LFT elevations, pneumonitis). Twenty-four pts received at least four cycles. We observed three partial responses: one dedifferentiated chondrosarcoma, one epithelioid sarcoma and one maxillary osteosarcoma (last two patients on pazopanib); nine patients had stable disease including three leiomyosarcomas; 12 patients had progression of disease including 4 leiomyosarcoma. Clinical benefit (response + stability) was observed in 50% of the evaluable patients.
Conclusions
These data provide a rationale for further exploring the efficacy of nivolumab and other checkpoint inhibitors in soft tissue and bone sarcoma.