01.03.2012 | Clinical Article | Ausgabe 3/2012 Open Access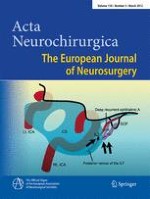 Restenosis after microsurgical non-patch carotid endarterectomy in 586 patients
Zeitschrift:
Autoren:

Michael Reinert, Marie-Louise Mono, Dominique Kuhlen, Luigi Mariani, Alain Barth, Jürgen Beck, Robert H. Andres, Jan Gralla, Rolf Wymann, Jürgen Schmidt, Christin Kauert, Gerhard Schroth, Marcel Arnold, Heinrich P. Mattle, Andreas Raabe, Urs Fischer
Wichtige Hinweise
This work has not been previously published or presented.
Comment
Carotid endarterectomy still represents a valuable technique in the prevention of major neurologic ischemic events in patients with significant carotid stenosis. The different techniques used for carotid artery closure after this procedure aim to guarantee low restenosis rates, both in terms of early and long-term results. Patch closure has been considered an optimal solution in order to reduce the risk of restenosis related to technical inaccuracies during carotid artery closure. The use of a microsurgical non-patch technique for primary closure compared to the standard primary closure has the appeal of eliminating those technical inadequacies in the suture line; the excellent mid-term results obtained in this series confirm this hypothesis. However, it is important to remember that restenosis could be also and maybe primarily related to miointimal hyperplasia or thrombotic apposition in the endarterectomized carotid wall. Both these events have a long time progression, and restenosis could be identified many years after the procedure. It will be really interesting to have a description of the results presented here in the future for the evaluation of long-term restenosis rates after using the micro-surgical non-patch technique. Another important issue is related to the learning curve needed for this procedure. Neurosurgeons are used to microsurgical procedures, and this represents a great advantage when compared to other specialties involved in the treatment of carotid stenosis, as vascular surgeons are. If microsurgical primary closure demonstrates comparable long-term results to patch closure in terms of reduced restenosis rate, microsurgical techniques should be included in vascular surgery training programs.
Domenico d'Avella
Franco Grego
Padova, Italy
The authors here report an institutional series of 586 CEA procedures by three surgeons over 11 years. Follow-up compliance for 1-year ultrasonography was reasonable at about 90%. Surgical skill and technique were excellent, as were the clinical results. The discussion of material issues regarding stent versus CEA and the nuances of the technique is erudite and pertinent.
The main point of this manuscript is to show that microsurgical repair of carotid arteriotomy yields a high-grade restenosis rate of 3.6% at 1 year. This is confounded a bit by the 90% follow-up rate rather than perfect data. However, the conclusion has validity; microsurgical repair with modern techniques yields excellent results.
As I have published many times (1), my preference is for collagen-impregnated Dacron patch repair in every case, no microscope. The high-grade restenosis rate has not yet been published by me, but, simply stated, it is zero at all evaluation time points, many beyond 1 year. So while I accept that these authors are superb technicians—I believe that they have done as well as can possibly be done without patch grafting—yet they still have an honest and valid figure of 3.6% recurrent high-grade stenosis. In my heart, I beleive we can still do better, and in my practice, universal patch grafting is the answer.
I have published many times and completely respect that many techniques can produce good outcomes in CEA. My technique works well for me, and I stand by it. This group shows fine results with a different technique, and I applaud them for their excellent contribution. Christopher M. Loftus
Philadelphia, PA
1. Loftus CM: Carotid Artery Surgery: Principles and Technique. 2nd edition. New York, Informa Publishing 2006.
Abstract
Background
Carotid endarterectomy (CEA) reduces the risk of stroke in patients with symptomatic (>50%) and asymptomatic (>60%) carotid artery stenosis. Here we report the midterm results of a microsurgical non-patch technique and compare these findings to those in the literature.
Methods
From 1998 to 2009 we treated 586 consecutive patients with CEA. CEA was performed, under general anesthesia, with a surgical microscope using a non-patch technique. Somatosensory evoked potential and transcranial Doppler were continuously monitored. Cross-clamping was performed under EEG burst suppression and adaptive blood pressure increase. Follow-up was performed by an independent neurologist. Mortality at 30 days and morbidity such as major and minor stroke, peripheral nerve palsy, hematoma and cardiac complications were recorded. The restenosis rate was assessed using duplex sonography 1 year after surgery.
Results
A total of 439 (75%) patients had symptomatic and 147 (25%) asymptomatic stenosis; 49.7% of the stenoses were on the right-side. Major perioperative strokes occurred in five (0.9%) patients [n = 4 (0.9%) symptomatic; n = 1 (0.7%) asymptomatic patients]. Minor stroke was recorded in six (1%) patients [n = 4 (0.9%) symptomatic; n = 2 (1.3%) asymptomatic patients]. Two patients with symptomatic stenoses died within 1 month after surgery. Nine patients (1.5%) had reversible peripheral nerve palsies, and nine patients (1.5%) suffered a perioperative myocardial infarction. High-grade (>70%) restenosis at 1 year was observed in 19 (3.2%) patients [n = 12 (2.7%) symptomatic; n = 7 (4.7%) asymptomatic patients].
Conclusions
The midterm rate of restenosis was low when using a microscope-assisted non-patch endarterectomy technique. The 30-day morbidity and mortality rate was comparable or lower than those in recently published surgical series.