01.10.2013 | Clinical Research | Ausgabe 10/2013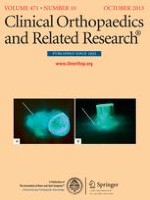 Restoration of the Hip Center During THA Performed for Protrusio Acetabuli Is Associated With Better Implant Survival
Zeitschrift:
Autoren:

MD Yaser M. K. Baghdadi, MD A. Noelle Larson, MD Rafael J. Sierra
Wichtige Hinweise
Funding for this study was received from CTSA Grant Number UL1 TR000135 (RJS) from the National Center for Advancing Translational Sciences (NCATS), a component of the National Institutes of Health (NIH). Its contents are solely the responsibility of the authors and do not necessarily represent the official view of NIH.
One of the authors (RJS) certifies that has or may receive payments or benefits, in any one year, an amount in excess of USD 10,000 from Biomet Inc (Warsaw, IN, USA).
All ICMJE Conflict of Interest Forms for authors and
Clinical Orthopaedics and Related Research
editors and board members are on file with the publication and can be viewed on request.
Each author certifies that his or her institution approved the human protocol for this investigation, that all investigations were conducted in conformity with ethical principles of research, and that informed consent for participation in the study was obtained.
Abstract
Background
Acetabular protrusio is an uncommon finding in hip arthritis. Several reconstructive approaches have been used; however the best approach remains undefined.
Questions/purposes
Our purposes in this study were to (1) describe the THA survivorship for protrusio as a function of the acetabular component, (2) evaluate survivorship of the cup as a function of restoration of radiographic hip mechanics and offset, and (3) report the long-term clinical results.
Methods
One hundred twenty-seven patients (162 hips) undergoing primary THA with acetabular protrusio were retrospectively reviewed. The mean age of the patients at surgery was 66 ± 13 years, and the mean followup was 10 ± 6 years (range, 2–25 years).The cup fixation was uncemented in 107 (83 with bone graft) and cemented in 55 hips (14 with bone graft). Preoperative and postoperative radiographs were reviewed for restoration of hip mechanics and offset.
Results
The THA survival from aseptic cup revision at 15 years was 89% (95% CI, 75%–96%) for uncemented compared with 85% (95% CI, 68%–94%) for cemented cups. The risk of aseptic cup revision significantly increased by 24% (hazards ratio, 1.24; 95% CI, 1.02–1.5) for every 1 mm medial or lateral distance away from the native hip center of rotation to the prosthetic head center. Harris hip scores were improved by mean of 27 ± 20 points (n = 123) with a higher postoperative score for uncemented bone grafted compared with solely cemented cups (81 ± 16 versus 71 ± 20 points).
Conclusions
Restoring hip center of rotation using an uncemented cup with or without bone graft was associated with increased durability in our series. There was a 24% increase in the risk of aseptic cup revision for every 1 mm medial or lateral distance away from the native hip center to the prosthetic head center.
Level of Evidence
Level III, therapeutic study. See Guidelines for Authors for a complete description of levels of evidence.