01.12.2014 | Original Article | Ausgabe 8/2014 Open Access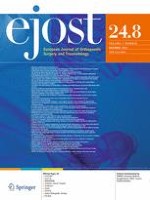 Results of 30 reverse shoulder prostheses for revision of failed hemi- or total shoulder arthroplasty
Autoren:

Philippe Valenti, Alexandre Sahin Kilinc, Philippe Sauzières, Denis Katz
Abstract
Purpose
Revision surgery for shoulder prosthesis remains a difficult task in shoulder surgery. The purpose of this retrospective study was to evaluate the clinical and radiological outcomes of a series of 30 reverse shoulder prostheses performed as revision of failed hemi- or total shoulder arthroplasty. The most relevant technical points in surgery are described, as are other surgical options; a rational strategy for the treatment of these patients is proposed.
Materials and methods
Thirty patients (average age 69.5) were included. Mean follow-up was 36.4 months (range 24–100 months). There were 14 patients in group 1 (Delta III) and 16 in group 2 (Reverse Arrow).
Results
A total of 83 % were satisfied (16 cases) or very satisfied (9 cases), and 17 % were disappointed (5 patients). The mean Constant score increased from a mean of 25–52. The mean score for pain improved from 5 (range 0–15) to 13 (range 5–15) (
p
< 0.001). The mean score of strength improved from 1 (range 0–6) to 5 (range 0–10) (
p
< 0.001). The forward elevation changed from a mean of 55° (range 0–120) to 108° (range 40–160) (
p
< 0.001). There was no significant improvement of external rotation at 0° abduction (range 14°–18°) or internal rotation (range 5–4.63). There were 4 scapular notching. We could not find the influence of scapular notching on Constant Score. Complication rate was 26.6 %.
Conclusion
Reverse total shoulder arthroplasty prosthesis represents an available option in difficult cases of failed hemiarthroplasty or total shoulder arthroplasty when the rotator cuff is irreparable and the glenoid bone stock is sufficient.
Level of evidence
Level 4.