01.12.2014 | Research article | Ausgabe 1/2014 Open Access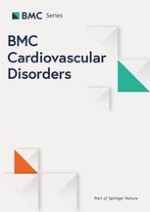 RETRACTED ARTICLE: Cardioprotective activity of placental growth factor in a rat model of acute myocardial infarction: nanoparticle-based delivery versus direct myocardial injection
Zeitschrift:
Autoren:

Zhe-xin Lu, Li-li Mao, Feng Lian, Jun He, Wen-tian Zhang, Chen-yang Dai, Song Xue, Wei-gen Lu, Hong-sheng Zhu
Wichtige Hinweise
Electronic supplementary material
The online version of this article (doi:
10.​1186/​1471-2261-14-53
) contains supplementary material, which is available to authorized users.
Competing interests
The authors declare that they have no competing interests.
Authors' contributions
ZXL and LLM carried out the molecular genetic studies, participated in the sequence alignment and manuscript preparation. FH and JH carried out the immunoassays. WTZ participated in the sequence alignment. CYD, SX and WGL participated in the design of the study and performed the statistical analysis. HSZ conceptualized the study, participated in the study design, oversaw execution of the designed experiments and helped prepare the manuscript. All authors read and approved the final manuscript.
Abstract
Background
To comparatively evaluate the cardioprotective activity of placental growth factor (PGF) delivered through direct injection and a nanoparticle-based system respectively and to study the underlying mechanisms in a rat model of acute myocardial infarction (AMI).
Methods
Poly lactic-co-glycolic acid (PLGA)-based PGF-carrying nanoparticles (PGF-PLGANPs) were created. The mean size and morphology of particles were analyzed with particle size analyzer and transmission electronic microscopy (TEM). Encapsulation efficiency and sustained-release dose curve were analyzed by ELISA. Sprague-Dawley rats were randomized into four groups (n = 10). While animals in the first group were left untreated as controls, those in the other 3 groups underwent surgical induction of AMI, followed by treatment with physiological saline, PGF, and PGF-PLGANPs, respectively. Cardiac function was evaluated by transthoracic echocardiography at 4 weeks after treatment. At 6 weeks, rats were sacrificed, infarction size was analyzed with Masson trichrome staining, and protein contents of TIMP-2, MT1-MMP and MMP-2 at the infarction border were determined by immunohistochemistry and western blotting analysis.
Results
PGF was released for at least 15 days, showing successful preparation of PGF-PLGANPs. Coronary artery ligation successfully induced AMI. Compared to physiological saline control, PGF, injected to the myocardium either as a nude molecule or in a form of nanoparticles, significantly reduced infarction size, improved cardiac function, and elevated myocardial expression of TIMP-2, MT1-MMP, and MMP-2 (P < 0.05). The effect of PGF-PLGANPs was more pronounced than that of non-encapsulated PGF (P < 0.05).
Conclusion
Target PGF delivery to myocardium may improve cardiac function after AMI in rats. PLGA-based nanoparticles appear to be a better approach to delivery PGF. PGF exerts its cardioprotective effect at least partially through regulating metalloproteinase-mediated myocardial tissue remodeling.