01.12.2016 | Study protocol | Ausgabe 1/2016 Open Access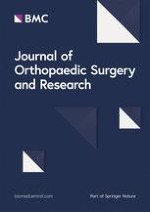 Retraction pattern of delaminated rotator cuff tears: dual-layer rotator cuff repair
Zeitschrift:
Autoren:

Sang-Won Cha, Choon-Key Lee, Hiroyuki Sugaya, Taegyun Kim, Su-Chan Lee
Abstract
Background
There has been no report to date regarding retraction patterns of delaminated rotator cuff tears. The purpose of this study was to evaluate the incidence and tearing patterns of delamination and repair integrity after the dual-layer repair of delaminated cuff tears.
Methods/design
A consecutive series of 64 patients with posterosuperior rotator cuff tears underwent arthroscopic rotator cuff repair from August 2011 to September 2012. Among the patients, 53 who received either dual-layer double-row (DLDR) repair or dual-layer suture bridge (DLSB) repair and 11 who received a single-layer repair were evaluated. The mean follow-up period after surgery was 26.5 months. The retraction direction of the deep and superficial layers was analyzed, and the integrity of the repaired constructs was determined in 37 patients through magnetic resonance imaging at a mean of 12.1 months after surgery.
Results
The incidence of delamination was 82.8 %. Posteromedial retraction of the deep and superficial layers was observed in 98.1 and 88.5 % of cases, respectively. The Constant score and UCLA score increased preoperatively to postoperatively, showing no significant differences between the dual-layer repair group and single-layer repair group. Retear was found in two (7.6 %) patients in the dual-layer repair group and three (27.2 %) patients in the single-layer repair group (
p
 = 0.016).
Conclusions
Differential rotator cuff repair strategies are needed to address rotator cuff tears, since recent studies have changed our concept of rotator cuff tears. We have focused on three areas: incidence, retraction patterns, and clinical outcomes. The incidence of delamination was extremely high. Both the superficial layer and deep layer were mainly retracted posteromedially. The retraction of the deep layer and superficial layer may be affected by the infraspinatus. Dual-layer rotator cuff repair based on the retraction pattern of delamination is recommended for improvement of repair integrity and of clinical outcomes.