01.09.2008 | Case Report | Sonderheft 2/2008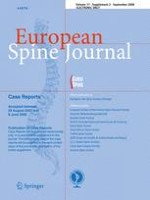 Retropharyngeal pseudomeningocele formation as a traumatic atlanto-occipital dislocation complication: case report and review
Zeitschrift:
Autoren:

Raquel Gutiérrez-González, Gregorio R. Boto, Álvaro Pérez-Zamarrón, Mónica Rivero-Garvía
Wichtige Hinweise
None of the authors have received any financial support for this report.
Abstract
Retropharyngeal pseudomeningocele after atlanto-occipital dislocation is a rare complication, with only five cases described in the literature. It develops when a traumatic dural tear occurs allowing cerebrospinal fluid outflow, and it often appears associated with hydrocephalus. We present a case of a 29-year-old female who suffered a motor vehicle accident causing severe brain trauma and spinal cord injury. At hospital arrival the patient scored three points in the Glasgow Coma Scale. Admission computed tomography of the head and neck demonstrated subarachnoid hemorrhage and atlanto-occipital dislocation. Three weeks later, when impossibility to disconnect her from mechanical ventilation was noticed, a magnetic resonance imaging of the neck showed a large retropharyngeal pseudomeningocele. No radiological evidence of hydrocephalus was documented. Given the poor neurological status of the patient, with spastic quadriplegia and disability to breathe spontaneously due to bulbar-medullar injury, no invasive measure was performed to treat the pseudomeningocele. Retropharyngeal pseudomeningocele after atlanto-occipital dislocation should be managed by means of radiological brain study in order to assess for the presence of hydrocephalus, since these two pathologies often appear associated. If allowed by neurological condition of the patient, shunting procedures such as ventriculo-peritoneal or lumbo-peritoneal shunt placement may be helpful for the treatment of the pseudomeningocele, regardless of craniocervical junction management.