01.12.2018 | Research article | Ausgabe 1/2018 Open Access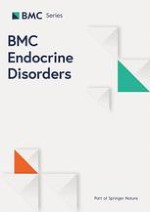 Retrospective assessment of the quality of diabetes care in a rural diabetes clinic in Western Kenya
Zeitschrift:
Autoren:

Sonak D. Pastakia, Bernardo Nuche-Berenguer, Chelsea Regina Pekny, Benson Njuguna, Elizabeth Guinevere O'Hara, Stephanie Y. Cheng, Jeremiah Laktabai, Victor Buckwalter, Nicholas Kirui, Patrick Chege
Wichtige Hinweise
Electronic supplementary material
Abbreviations
AMPATH
Academic Model Providing Access to Healthcare
HIV
Human immunodeficiency virus
IDF
International Diabetes Federation
IUPUI
Indiana University Purdue University Indianapolis
NCD
Non-communicable diseases
SEM
Standard error of the mean
SMBG
Self-monitored blood glucose
USAID
United States Agency for International Development
Background
Methods
Study design, and setting
We conducted a retrospective study in the diabetes clinic of Webuye District Hospital (WDH), a secondary care hospital in rural Western Kenya. The clinic was established in 2009 and serves a low-income population that primarily relies on an agriculture-based economy and job market. The clinic is regularly staffed by clinical officers (diploma level providers equivalent to physician assistants in other settings), nutrition counselors, and a social work team. Clinical officers manage stable patients, defined as patients with well controlled diabetes and low risk for complications, while family medicine residents and consultant physicians review newly enrolled patients. In addition, the physicians, family medicine residents and clinical pharmacists provide care decision support for complicated cases. Patients are scheduled for follow up anytime between one week and three months depending on the patient's clinical needs. The clinic is able to provide both insulin therapy, oral hypoglycemic agents (sulfonylureas), and metformin, as well as routine tests such as point-of-care blood glucose (Abbott Optimum Xceed
®
), and glycated hemoglobin (HbA1C, Siemens DCA Vantage
®
) at the clinic. The hospital lab provides urea, creatinine, electrolyte measurements, urinalysis, and complete blood count testing, when needed. Insulin dependent patients and/or those at increased risk of diabetes related complications are eligible for inclusion within an intensive self-monitored blood glucose (SMBG) program where patients are provided with glucose monitoring devices and test strips for twice daily SMBG checks and relay them to the clinic once a week via phone calls for dose adjustments by the clinic staff [
14
]. Patients with additional diagnostic tests or treatment requirements beyond the hospital's capacity are referred to higher levels of care or private facilities. Clinic and phone based patient encounters are recorded using paper based forms that are transcribed into an electronic database. [
11
].
This study was approved by the Moi Teaching and Referral Hospital/Moi University School of Medicine Institutional Research and Ethics Committee and the Institutional Review Board of the Indiana University Purdue University Indianapolis (IUPUI). A waiver of informed consent was obtained from both of the institutions as all data being assessed was collected through routine clinical care and was de-identified before being retrospectively assessed.
Participants and data collection
We included data from all patients with type 1 or type 2 diabetes who received care in the WDH diabetes clinic between July 2009 and September 2011. Data was abstracted from the clinic's electronic database using a predesigned data collection tool by a trained data manager who also checked the information for completeness and discrepancies by periodically comparing the information to the paper-based records.
Baseline data collected for all patients included demographic and socio-economic data. We collected the following information available for each clinical encounter: random blood sugar (RBS), HbA1C, body mass index (BMI), systolic and diastolic blood pressure, self-reported signs and symptoms of hyperglycemia or hypoglycemia (polyuria, polydipsia, polyphagia, change in vision, loss of consciousness, confusion, diaphoresis, weakness, shaking, dizziness, and headache), self-reported symptoms of peripheral neuropathy (skin numbness, tingling, hot/cold or burning sensation) or peripheral neuropathy detected by use of a 10 g monofilament test on each foot, ocular problems (blurred or cloudy vision, eye itchiness, myopia, and hypermetropia), and prescribed medications. For male patients, data on symptoms of impotence were also collected. Where available, data points were collected for each 3-month clinic visit, up to a period of 18 months after enrollment for each individual patient.
Outcomes
We considered clinical outcomes, process, and structure metrics when assessing the quality of diabetes care at WDH. The primary clinical outcome of interest was change in HbA1C from baseline to 18 months. Secondary clinical outcomes included the change in HbA1c, blood glucose, BMI, blood pressure, and the frequency of diabetes complications at quarterly intervals. Diabetes complications specifically tracked within routine clinical care included symptomatic hypoglycemia/hyperglycemia, presence of peripheral neuropathy, and ocular complications.
The primary process metric of interest was loss-to-follow up, defined as absence of clinical encounter data for more than six consecutive months, for an individual patient. Secondary process metrics included patterns of medication use and frequency of documentation of recommended diabetes care services. In addition, we compared service delivery at WDH against 19 different domains in the minimal, standard, and comprehensive care recommendations from the IDF Global Guideline for diabetes care [
11
].
Statistical analysis
Results were presented descriptively as percentages, means, and medians, with corresponding standard deviation and range, where appropriate. Means and standard deviations were presented for normally distributed data while medians and interquartile ranges were utilized for data with a skewed distribution. Comparison between baseline clinical data and subsequent data was made using the paired t-test, with statistical significance being set to a
p
value < 0.05. STATA 13.1(College Station, TX, USA) was used for all analyses.
Results
524 patients were enrolled in the WDH diabetes clinic between July 2009 and September 2011. Median age was 58 years (IQR = 19) with only 14 patients (3% of the population) having an age ≤ 20 years and 56% being female. The median diabetes duration prior to enrolment was 4 years. Baseline mean BMI of the male and female participants were 26.0 kg/m
2
(SD = 9.0) and 27.6 (SD = 6.5) kg/m
2
, respectively. 27% (
n
= 95) of the evaluable population were obese (BMI ≥30 kg/m
2
) with significantly more women (31%,
n
= 63) being obese than men (21%,
n
= 32). Of these 524 patients, 85 were enrolled into the SMBG program for intensive follow-up. Additional baseline characteristics are shown in Table
1
with more detailed descriptions available in a prior publication [
15
]. Within the 18-month period of database evaluation, 60% of the patients had follow up data for at least 6 months while 31% of patients had follow up data for at least 18 months (Table
2
).
Table 1
- Baseline demographic and clinical values
Number of Patients

524

Median Age (IQR)

58 (19)

Median diabetes duration (IQR)

4 (18)

Age category on enrollment in the clinic (years)

 11–15, n (%)

7 (1.5%)

 16–20

7 (1.5%)

 21–25

10 (2.1%)

 26–30

6 (1.2%)

 31–40

24 (5.0%)

 41–50

91 (18.8%)

 51–60

130 (26.9%)

 61–70

120 (24.8%)

 71–80

71 (14.67%)

 > 80

18 (3.7%)

Female, n (%)

295 (56.3%)

Male, n (%)

229 (43.7%)

HBA1C mean ± SEM, %

10.2 ± 2.8

 < 7%, n (%)

63 (15.0%)

 7–10%

150 (35.6%)

 > 10%

208 (49.4%)

Systolic blood pressure, mean ± SD mmHg

134 ± 24

Diastolic blood pressure, mean ± SD mmHg

83 ± 12

 < 120/80 (Normal) n (%)

98 (19.1%)

 120–139/80–89 (Prehypertension)

277 (53.9%)

 140–159/90–99 (Hypertension, Stage 1)

112 (21.8%)

 > 160/100 (Hypertension, Stage 2)

27 (5.3%)

Mean BMI ± SD (Kg/m2)

27.15 ± 6.55

 Male, Mean BMI ± SD (n)

26.0 ± 9.0 (150)

 Female

27.6 ± 6.5 (202)

 < 18.50, n (%)

23 (6.7%)

 18.50–24.99

108 (31.1%)

 25–29.99

125 (36.0%)

Obese class I range of 30.00–34.99

52 (15.0%)

Obese class II range of 35.00–39.99

26 (7.5%)

 ≥ 40.00

13 (3.8%)
Table 2
- Duration of Follow-up for Diabetes Clinic Patients
| Duration of Follow-up | Total (n = 524) | SMBG (n = 85) | Non-SMBG (n = 436) |
| --- | --- | --- | --- |
| Baseline encounter only n (%) | 101 (19.2%) | 6 (7.1%) | 95 (21.7%) |
| At least 1 month | 418 (79.7%) | 78 (91.7%) | 340 (77.9%) |
| 3 months | 378 (72.1%) | 75 (88.2%) | 303 (69.4%) |
| 6 months | 316 (60.3%) | 66 (77.6%) | 250 (57.3%) |
| 9 months | 282 (53.8%) | 62 (72.9%) | 220 (50.4%) |
| 12 months | 235 (44.8%) | 58 (68.2%) | 177 (40.6%) |
| 15 months | 195 (37.2%) | 51 (60.0%) | 144 (33.0%) |
| > 18 months | 161 (30.7%) | 42 (49.4%) | 119 (27.2%) |
Clinical outcomes
Process outcomes
38 (7.3%) patients in the overall clinical population were lost to follow-up, with their distribution being 6 (7.1%) patients in the SMBG program and 32 patients (7.3%) in usual clinic care. In terms of documentation of recommended diabetes care procedures, assessment for hypoglycemia and hyperglycemia, blood pressure, ophthalmological symptoms, and symptoms of foot disorders were documented for more than 90% of the clinic visits. 85.1% of the evaluable population had an HbA1c result documented twice per year, 2.7% documented having their serum lipids checked at any time point, 1.5% had a creatinine result documented, and nobody had a documented microalbumin test.
A total of 284 patients (58%) were on oral medication, 95 (19%) were only taking insulin, 88 (18%) were taking oral medications and insulin, 16 (3%) were taking mostly oral medication but also insulin at some point in their care, and 6 (1%) were taking mostly insulin but also received trials of oral medications. Patients with diabetes and hypertension were started on various hypertension medications with angiotensin converting enzyme inhibitors (enalapril) being prescribed for 73% of diabetes patients, followed by thiazide-type diuretics (hydrochlorothiazide) for 58% of patients, calcium channel blockers (nifedipine 30.5% and amlodipine 1%), angiotensin receptor blockers (11%), beta blockers (atenolol 11%, carvedilol 2%, and metoprolol 1.3%), loop diuretics (furosemide 7.4%), and aldosterone antagonists (spironolactone 1.1%). Low dose aspirin (75–100 mg) was prescribed for 30% of the clinic population for primary and secondary prevention of cardiovascular events.
In comparing the services available at WDH to the IDF global guideline recommendations, the WDH diabetes clinic provided care that was below the minimal recommendations for care in 5 domains, met the minimal care recommendations in 7 domains, met the standard care recommendations in 7 domains, and didn't meet the comprehensive care recommendations in any of the domains
(
Table
7
)
. For the domains where the clinic did not meet minimal recommendations, the primary limitations were related to limited lab infrastructure within the hospital where laboratory tests were infrequently available to patients.
Table 7
- Grading of the WDH clinic structure metrics against the International Diabetes Federation Guidelines
| IDF Domains | Below minimal care | Minimal Care | Standard Care | Comprehensive Care |
| --- | --- | --- | --- | --- |
| Screening | | X | | |
| Care delivery | | | X | |
| Education | | | X | |
| Psychological Care | X – Limited access to mental health care referral and medications | | | |
| Lifestyle management | | X | | |
| Glucose control Targets | | X | | |
| Clinical Monitoring | | | X | |
| Self-monitoring | | | X | |
| Glucose control: oral therapy | | X | | |
| Glucose control: insulin therapy | | | X | |
| Blood pressure control | | | X | |
| Cardiovascular risk protection | X-Statins infrequently used/available | | | |
| Eye Screening | | X | | |
| Kidney damage | X-limited assessment for proteinuria or routine creatinine | | | |
| Foot care | | X | | |
| Nerve damage | | X | | |
| Pregnancy | X-Approved methods for diabetes screening not routinely done | | | |
| Children | | | X | |
| In-patient care | X-Limited access to intensive care and limited biochemistry capacity | | | |
Discussion
This multifaceted evaluation of the quality of care within the WDH rural diabetes clinic provides insight into the unique aspects of implementing diabetes care in rural SSA. Our investigation revealed a statistically significant 10% decrease in HbA1c among enrolled diabetes patients, reflecting improved glycemic control. In addition, we noted a high adherence to recommended diabetes care procedures in this resource constrained setting.
Conclusion
This comprehensive analysis highlights many unique attributes found in a rural diabetes clinic in western Kenya. With the projected increases in diabetes prevalence across SSA, it is essential that lessons are learned from this analysis and responsive, contextualized infrastructure is created to continue expanding access to high quality diabetes services across the region. The many gaps in care and unique attributes found amongst this patient population create a rich platform for future research efforts geared towards addressing the many pressing challenges patients with diabetes in SSA face. A combined approach which simultaneously focuses on the creation of much needed clinical infrastructure for comprehensive diabetes care with contextualized research will help stave off the many anticipated health and economic consequences associated with diabetes in SSA.
Acknowledgements
Not applicable.
Funding
This research was supported in part by the President's Emergency Plan for AIDS Relief through the U.S. Agency for International Development under the terms of Cooperative Agreement No. AID-623-A-12-0001. The contents of this article are the sole responsibility of AMPATH and do not necessarily reflect the views of USAID or the U.S. government. This publication was also made possible by the Indiana Clinical and Translational Sciences Institute, funded in part by grant UL1 TR001108 from the National Institutes of Health, National Center for Advancing Translational Sciences, Clinical and Translational Sciences Award. The authors thank Abbott Diabetes Care for providing glucose testing supplies and the Abbott Fund for providing financial support for this effort. They also thank Eli Lilly and Company for donating insulin and providing seed funding to support the authors' overarching work in diabetes. They also thank the Miriam Hospital (Providence, RI) and Mennonite Central Committee for their initial financial support in establishing this clinic.
Availability of data and materials
The datasets used and/or analyzed during the current study are available from the corresponding author on reasonable request.
Ethical approval and consent to participate
This study was approved by the Moi Teaching and Referral Hospital/Moi University School of Medicine Institutional Research and Ethics Committee and the Institutional Review Board of the Indiana University Purdue University Indianapolis (IUPUI). A waiver of informed consent was obtained from both of the institutions as all data being assessed was collected through routine clinical care and was de-identified before being retrospectively assessed.
Consent for publication
Not applicable.
Competing interests
Sonak Pastakia serves as a consultant for Abbott on work unrelated to the study being presented here. The other authors declare that they have no competing interests.
Publisher's Note
Springer Nature remains neutral with regard to jurisdictional claims in published maps and institutional affiliations.
Open Access
This article is distributed under the terms of the Creative Commons Attribution 4.0 International License (
http://​creativecommons.​org/​licenses/​by/​4.​0/​
), which permits unrestricted use, distribution, and reproduction in any medium, provided you give appropriate credit to the original author(s) and the source, provide a link to the Creative Commons license, and indicate if changes were made. The Creative Commons Public Domain Dedication waiver (
http://​creativecommons.​org/​publicdomain/​zero/​1.​0/​
) applies to the data made available in this article, unless otherwise stated.