01.01.2016 | Debate | Ausgabe 1/2016 Open Access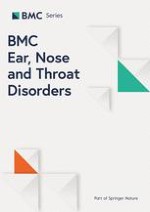 Review article: outcomes in endoscopic sinus surgery
Zeitschrift:
Autoren:

Edward Noon, Claire Hopkins
Background
Chronic rhinosinusitis (CRS) affects approximately 11 % of people in the UK [
1
], and may exist with or without nasal polyps. It is defined by the European Position Paper on Rhinosinusitis and Nasal Polyps [
2
] as inflammation of the nose and paranasal sinuses, characterised by two or more of the following symptoms, persisting for more than 12 weeks:
blockage/congestion; discharge (anterior or post-nasal drip); facial pain/pressure; reduction in smell;

and either endoscopic signs of polyps; mucopurulent discharge from the middle meatus; oedema/mucosal obstruction primarily in the middle meatus;

and/or mucosal changes within the osteomeatal complex and/or sinuses on CT.
CRS has been shown to have a significant impact on quality of life, greater in some respects than other chronic diseases such as angina or COPD [
3
]. In addition, there are significant direct and indirect costs to both patients and society; a recent systematic review estimated the overall annual economic burden of CRS to be $22 billion USD (direct and indirect costs) in the US [
4
]. Direct healthcare costs were estimated to lie between $6.9 to $9.9 billion 2014 USD per year and indirect costs as $13 billion 2014 USD per year, with additional annual medication costs borne by each patient prior to surgery ranging between $1,547 and $2,700 2014 USD.
Medical therapy forms the mainstay of management in CRS, but when this fails to improve symptoms or in the presence of actual or impending complications, surgery is usually considered. Endoscopic sinus surgery (ESS) is now considered standard practice, with open approaches rarely considered in uncomplicated disease.
In order to assess the quality of surgical intervention, a variety of objective and subjective outcome measures exist to facilitate this practice and in recent years there has been a growing volume of published literature on outcomes in sinus surgery, particularly from UK and US centres. This review aims to discuss which outcome measures might be considered in the evaluation of endoscopic sinus surgery for CRS and what the published outcomes of surgery are to date. How ESS for CRS may positively influence the disease pattern in patients with asthma, and may decrease the incidence of new diagnoses of asthma will also be discussed. Finally, we consider how perioperative decision-making may alter surgical outcomes, with particular focus on patient selection, timing and extent of surgery, and the choice of post-operative care strategies.
Outcome measures and the published outcomes of ESS
When considering the outcomes of sinus surgery, it is important to define how these should be measured. 'Objective' measures of surgery, such as endoscopic appearances, ostial patency or changes in CT scans, were often reported as the primary outcome in early studies of endoscopic sinus surgery. However, since the evolution of subjective outcome measurements using validated, disease-specific instruments (Patient Reported Outcome Measures – PROMs), there has been a growing acceptance that the patient's view of outcomes is the most important. In a recent study of both patients' and physicians' views on outcome measurement in CRS, 80 % of respondents considered symptomatic improvement as most important [
5
].
This section aims to identify the important subjective and objective outcome measures, and describe the published outcomes of ESS to date, as determined by each outcome measure.
Method
A literature search was performed using PubMed with the search terms "Outcomes
AND
(Endoscopic sinus surgery
OR
ESS
OR
FESS
OR
sinus surgery)". Searches were constrained to English language and adult patients only. Studies that included concurrent rhinoplasty were excluded. The Cochrane ENT online library (ent.cochrane.org) was also searched and relevant studies were considered for review. The European Position Paper on Rhinosinusitis and Nasal Polyps 2012 [
2
] was searched carefully for any remaining studies not identified by the initial search methods. To be included in this review, studies were preferentially chosen for their higher level of evidence, size of study, clearly defined outcome measures, and those with the outcome measures we describe as their primary outcome.
Subjective measures
PROMs
Patient-reported symptom severity can be most simply recorded using visual analogue scales. Patients are asked to indicate their answer to the question "How troublesome are your symptoms of rhinosinusitis?" and mark their answer at one point on a 10 cm line. Individual symptom severity may also be rated in the same manner.
Due to the challenges of recruiting to RCTs in surgery, particularly when medical therapy has failed, there is a paucity of Level 1 evidence. However, there are a number of large prospective cohort studies that demonstrate significant benefit from surgery.
Generic health-related quality-of-life (QOL) symptom scores
Despite this, there are emerging studies that demonstrate that surgery has an impact on more global quality of life.
Productivity and absenteeism
It has been recognised that the effects of CRS on physical and mental health may translate into absence from work - absenteeism. Any deleterious effect on concentration due to CRS whilst at work is described as presenteeism [
21
], and is a self-reported measure of loss in concentration via a questionnaire. The total effect of absenteeism and presenteeism may be described as the Lost Productive Time, and the economic impact this has on society can be estimated using the average daily wage of the national population.
There are only a small number of studies quantifying the substantial indirect costs to the patient and society from absenteeism and lost productive time [
21
,
22
]. Only one evaluates the impact of ESS on these indirect costs; 27 patients with refractory CRS who elected to undergo ESS were enrolled in a study to assess the effect of surgery on productivity costs [
23
]. The total mean lost productive time due to absenteeism, presenteeism and loss of household productivity (due to time spent caring for CRS symptoms), was 75 days per person per year, equating to an annual productivity cost of $9190 per person. After a mean follow up of 15 months, the lost productive time reduced to 28 days and productivity costs significantly reduced to $3373.
Objective measures
There are a number of objective measures that may be recorded in patients with CRS.
Heterogeneity of outcome measures
The extent of outcome measures is wide-ranging, making familiarity with interpreting data and comparing results from several studies for meta-analysis more challenging. It is likely that one outcome measure alone is insufficient to be able to assess the efficacy of a given treatment, whether novel or part of routine practice. The difficulties that accompany this heterogeneity are currently being addressed by an international expert team of rhinologists, which form part of the COMET group (Core Outcome Measures in Effectiveness Trials) [
35
]. They aim to develop a 'core outcome set' of outcome measures that should be used as a minimum when evaluating new treatments and routine management.
What is the impact of ESS on respiratory function?
There is now emerging evidence to suggest that addressing the disease burden of CRS surgically may have a positive impact upon respiratory function in patients with asthma.
Impact of ESS on the incidence of asthma
The healthcare records of 2833 patients with CRS in the USA who underwent primary ESS were reviewed for the presence of coexisting asthma and associated healthcare visits [
36
]. Significantly more patients had asthma (45.4 %) in those that waited the longest to surgery (≥5 years) following their asthma diagnosis, compared to those who had surgery within 1 year (20.3 %). Whether this data means that treating medically refractory CRS has a beneficial effect on respiratory function, or the greater incidence of asthma is a manifestation of the underlying disease process of the entire respiratory tract is yet to be established.
This group also sought to establish how the incidence of new asthma diagnoses varied in relation to the time between first diagnosis of CRS and primary ESS. The healthcare records of 1204 patients with no pre-existing history of asthma were analysed, which revealed that there was an almost linear increase in the incidence of asthma diagnoses between 9.4 % in 181 patients who had primary ESS between 1–2 years after diagnosis, and 22.4 % in 536 patients who had surgery between 4–5 years after diagnosis. Following surgery, there were significantly fewer new asthma diagnoses in those who had surgery between 1–2 years, versus the 4–5 years group [
37
].
Is there a beneficial effect from ESS on pre-existing asthma?
A systematic review and meta-analysis found 22 studies identifying at least one asthma outcome following sinus surgery [
38
]. Overall asthma symptoms improved in 76 % of patients, and there were also decreases in frequency of asthma attacks, hospitalisations and emergency department visits. The frequency of oral corticosteroid use decreased by 72 %, and inhaled corticosteroids decreased by 28 %. However, no studies identified reported an improvement in FEV
1
or PEF. Despite this thorough review, the included studies were not controlled against patients who did not have surgery; there was variation in the severity of asthma and extent of surgery; and, whether this apparent improvement in asthma outcomes is sustained is not known.
In 47 patients in Canada with severe asthma who underwent FESS having failed medical therapy for ESS, the number of visits to the asthma clinic in the immediate 12 months prior to surgery compared to those in the subsequent 12 months decreased by 50 % (6 to 3) [
39
].
Effectiveness of revision surgery
How can we influence outcomes?
Conclusion
Outcome measures in sinus disease, in particular CRS, have evolved significantly over the past 20 years, with a trend away from objective measurements as the primary outcome and towards patient-reported outcomes. The range of available tools allow us to evaluate the effectiveness of surgery with respect to health-specific and generic quality-of-life, disease burden, healthcare utilisation and respiratory function. Although there is a paucity of level 1 evidence, these outcomes demonstrate significant, sustained benefits from surgery in medically recalcitrant patients. A randomised controlled trial to evaluate the benefit of surgery over continued medical therapy in patients who have failed an initial course of medical treatment, and defining appropriate indications for surgery and the optimal extent should be the focus of future studies.
Key points
Outcome measures now more commonly report subjective, symptomatic outcomes
There is a paucity of Level 1 evidence to show to any superior benefit from ESS over continued medical therapy, when initial medical therapy has failed
Large, prospective cohort studies suggests benefit exists
ESS may positively influence disease control in asthma
Earlier surgical intervention in CRS after initial medical therapy has failed, appears to deliver improved symptomatic outcomes
Abbreviations
ASA, acetylsalicylic acid; B-SIT, brief smell identification test; COMET, core outcome measures in effectiveness trials; COPD, chronic obstructive pulmonary disease; CRS, chronic rhinosinusitis; CRSsNP, chronic rhinosinusitis without nasal polyps; CRSwNP, chronic rhinosinusitis with nasal polyps; CSS, chronic sinusitis survey; CT, computed tomography; EPOS, European position paper on rhinosinusitis and nasal polyps, 2012; ESS, endoscopic sinus surgery; FESS, functional endoscopic sinus surgery; FEV 1, forced expiratory volume in 1 s; HUV, health utility value; MCID, minimum clinically important difference; PEF, peak expiratory flow rate; PROMs, patient-reported outcome measures; QALY, quality adjusted life year; RCT, randomised controlled trial; RSDI, rhinosinusitis disability index; RSOM-31, 31-item rhinosinusitis outcome measure; SF-36, short form-36; SF-6D, short form-6D; SNOT-20, 20-item sinonasal outcome test; SNOT-22, 22-item sinonasal outcome test; UPSIT, University of Pennsylvania Smell Identification Test; VAS, visual analogue scale.
Authors' contributions
EN drafted the manuscript, reviewed the available literature and approved the final version; CH conceived the manuscript's design and structure, edited the manuscript and approved the final version.
Competing interests
The authors declare that they have no competing interests.
Open Access
This article is distributed under the terms of the Creative Commons Attribution 4.0 International License (
http://​creativecommons.​org/​licenses/​by/​4.​0/​
), which permits unrestricted use, distribution, and reproduction in any medium, provided you give appropriate credit to the original author(s) and the source, provide a link to the Creative Commons license, and indicate if changes were made. The Creative Commons Public Domain Dedication waiver (
http://​creativecommons.​org/​publicdomain/​zero/​1.​0/​
) applies to the data made available in this article, unless otherwise stated.