01.11.2010 | Review Article/Brief Review | Ausgabe 11/2010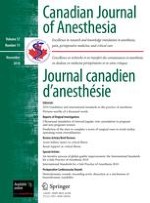 Review article: Renal support in critical illness
Autoren:

MD Sean M. Bagshaw, MD Rinaldo Bellomo, MD Prasad Devarajan, MD Curtis Johnson, MD C. J. Karvellas, MD D. James Kutsiogiannis, MD Ravindra Mehta, MD Neesh Pannu, MD Adam Romanovsky, MD Geoffrey Sheinfeld, MN Samantha Taylor, MD Michael Zappitelli, MD R. T. Noel Gibney
Wichtige Hinweise
Editor's Note
: This article is the second of two linked special review articles published in this issue of the
Journal.
The concept of these articles emerged from the scientific content of the 2010 Acute Kidney Injury (AKI) and Renal Support in Critical Illness Symposium, hosted in Edmonton, Alberta. This review (Part 2) provides a focused and comprehensive update on emerging evidence regarding the practice of acute renal replacement therapy (RRT) for critically ill patients, extracorporeal therapies in sepsis, liver failure, and rhabdomyolysis, along with practical considerations in their management.
Abstract
Purpose
This review provides a focused and comprehensive update on established and emerging evidence in acute renal replacement therapy (RRT) for critically ill patients with acute kidney injury (AKI).
Principal findings
There have been considerable technological innovations in the methods and techniques for provision of extracorporeal RRT in critical illness. These have greatly expanded our capability to provide both renal and non-renal life-sustaining organ support for critically ill patients. Recent data suggest earlier initiation of RRT in AKI may confer an advantage for survival and renal recovery. Two large trials have recently shown no added benefit to augmented RRT dose delivery in AKI. Observational data have also suggested that fluid accumulation in critically ill patients with AKI is associated with worse clinical outcome. However, several fundamental clinical questions remain to be answered, including issues regarding the time to ideally initiate/discontinue RRT, the role of high-volume hemofiltration or other blood purification techniques in sepsis, and extracorporeal support for combined liver-kidney failure. Extracorporeal support with RRT in sepsis, rhabdomyolysis, and liver failure are discussed, along with strategies for drug dosing and management of RRT in sodium disorders.
Conclusions
We anticipate that this field will continue to expand to promote research and innovation, hopefully for the benefit of sick critically ill patients.