01.12.2016 | Research article | Ausgabe 1/2016 Open Access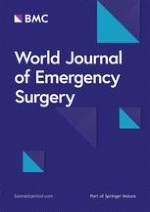 Review of 58 patients with necrotizing fasciitis in the Netherlands
Zeitschrift:
Autoren:

Sander F. L. van Stigt, Janneke de Vries, Jilles B. Bijker, Roland M. H. G. Mollen, Edo J. Hekma, Susan M. Lemson, Edward C. T. H. Tan
Abstract
Background
Necrotizing fasciitis is a rare, life threatening soft tissue infection, primarily involving the fascia and subcutaneous tissue. In a large cohort of patients presenting with Necrotizing fasciitis in the Netherlands we analysed all available data to determine the causative pathogens and describe clinical management and outcome.
Methods
We conducted a retrospective, multicentre cohort study of patients with a necrotizing fasciitis between January 2003 and December 2013 in an university medical hospital and three teaching hospitals in the Netherlands. We only included patients who stayed at the Intensive Care Unit for at least one day.
Results
Fifty-eight patients were included. The mortality rate among those patients was 29.3 %. The central part of the body was affected in 28 patients (48.3 %) and in 21 patients (36.2 %) one of the extremities. Most common comorbidity was cardio vascular diseases in 39.7 %. Thirty-nine patients (67.2 %) were operated within 24 h after presentation. We found a type 1 necrotizing fasciitis in 35 patients (60.3 %) and a type 2 in 23 patients (39.7 %).
Conclusions
Our study, which is the largest study in Europe, reaffirmed that Necrotizing fasciitis is a life threatening disease with a high mortality. Early diagnosis and adequate treatment are necessary to improve the clinical outcome. Clinical awareness off necrotizing fasciitis remains pivotal.