21.08.2021 | Review | Sonderheft 2/2021 Open Access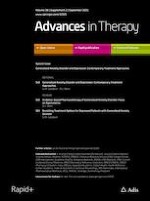 Revisiting Treatment Options for Depressed Patients with Generalised Anxiety Disorder
Zeitschrift:
Autor:

Guy M. Goodwin
Key Summary Points
Why carry out this review?
Comorbid generalised anxiety disorder (GAD) and major depressive disorder is not yet universally recognised as a distinct disorder (i.e. as anxious depression), consequently therapeutic research and recommendations for this specific condition are lacking.
What was learned from the review?
Many antidepressant agents are also effective for symptoms of GAD, including selective serotonin reuptake inhibitors (SSRIs).
Likewise, drug classes used to treat GAD are also effective in the treatment of depression with anxious symptoms (e.g. SSRIs, serotonin–noradrenaline reuptake inhibitors, tricyclic antidepressants and agomelatine).
Greater recognition of anxious depression and further clinical research in this specific patient population are required.
Introduction
Among psychiatric disorders, generalised anxiety disorder (GAD) and major depressive disorder (MDD) are the leading contributors to global disability and, indeed, both are among the top ten causes of disability-adjusted life-years worldwide [
1
].
Symptoms of anxiety and depression often coexist [
2
,
3
]. Moreover, the presence of both GAD and MDD is strongly associated with a poor prognosis, an increase in severe symptoms, poorer quality of life, greater MDD recurrence, and a higher suicide risk than either disorder alone [
4
‐
6
].
This article is based on previously conducted studies and does not contain any new studies with human participants or animals performed by any of the authors.
What is Anxious Depression?
Despite an increasing body of evidence describing the relationship between anxiety and depression [
5
‐
7
], comorbid anxiety and depression does not have adequate recognition as a distinct clinical entity in the current
Diagnostic and Statistical Manual of Mental Disorders
(DSM-5). Thus, a diagnosis of MDD does not require the presence of any symptoms of anxiety. DSM-5 includes anxious depression only as one among many subtypes of a major depressive episode, described by the specifier of anxious distress [
8
]. The two most recent versions of the
International Classification of Diseases
(ICD-10 and ICD-11) include a rather different concept of 'mixed anxiety and depressive disorder'. In ICD-10, it is defined as a condition (F41.2) where depression and anxiety are both present but neither to an extent that would justify a diagnosis of MDD or GAD separately. It was designed to capture minor disorders seen in primary care. One of the key differences between the criteria for a full syndrome of anxiety or depression is the time element. GAD requires 6 months of symptoms, MDD just 2 weeks. ICD-11 has introduced a clearer set of criteria, namely the presence of symptoms of both anxiety and depression on more days than not over at least 2 weeks [
9
,
10
]. In primary care, anxious depression is much the commonest presentation amongst those seeking treatment. Despite its inclusion in ICD-10, a lack of randomised controlled trials means that guidelines cannot, at the present time, recommend evidence-based treatment options for patients with comorbid anxiety and depression [
11
].
Relationship Between Anxiety and Depression
The relative contributions of genetic and environmental factors to the development of anxiety and depression have been studied in pairs of monozygotic and dizygotic twins [
7
]. In these studies, MDD was found to be strongly genetic in origin, with very little contribution from the shared environment of the twin pairs; in contrast, GAD was more weakly associated with genetic factors, but more strongly correlated with the shared environment. The contribution of the non-shared (unique) environment was significant for both disorders, with 'loss' events promoting the development of MDD, and 'threat' events promoting the development of GAD.
In a recent study of the general UK population (
N
 > 150,000), GAD and depression were found to have a strong genetic overlap but were partially distinct from fear-related disorders, such as phobias [
2
]. Phenotypically, GAD was strongly correlated with both depression and fear-related disorders, but there was a much weaker correlation between fear and depression. These findings imply a shared biology between GAD and depression, and suggest a close clinical relationship that is likely to have implications for treatment.
Treatment Options for Patients with Anxious Depression
At present, the most appropriate recommendation that can be made for patients who have symptoms of both anxiety and depression is to use an evidence-based antidepressant that has efficacy in the treatment of anxiety symptoms. Moving forward, there is a need for greater awareness and recognition of anxious depression by both the clinical and research communities; physicians should routinely screen for symptoms of anxiety in their patients with depression, and modify their approach to treatment and monitoring accordingly. In the research setting, dedicated trials in patients with comorbid anxiety and depression are needed, as is the more widespread inclusion of anxiety symptoms as an endpoint in studies of MDD.
Conclusion
Depression and GAD are closely related and often coexist, suggesting a common biological basis for both disorders. Under-recognition of anxious depression as a clinical entity has hindered the availability of clinical data, such that there are few specific treatment guidelines or recommendations for people with symptoms of both disorders. Antidepressants with proven efficacy against anxiety symptoms should be the first choice of treatment, with the short-term addition of a benzodiazepine being considered when additional control of specific anxiety symptoms is needed.
Acknowledgements
Funding
This supplement has been sponsored by Servier, France. This funding includes payment of the Journal's Rapid Service Fee and Open Access Fee.
Medical Writing Assistance
We would like to thank Alma Orts-Sebastian, PhD, and Richard Crampton of Springer Healthcare Communications, who wrote the first and subsequent drafts of this article. Funding for this medical writing assistance was provided by Servier.
Authorship
The named author meets the International Committee of Medical Journal Editors (ICMJE) criteria for authorship for this article, takes responsibility for the integrity of the work as a whole, and has given their approval for this version to be published.
Author Contributions
Prof Goodwin prepared the lecture on which this article is based, read, revised and edited all drafts, and approved the final manuscript for submission.
Prior Presentation
This review and the accompanying articles in this supplement are based on presentations made by the authors at a Servier-funded virtual symposium titled "GAD and Depression: Contemporary Treatment Approaches" as part of the Industry Science Exchange sessions that took place at the European College of Neuropsycopharmacology 33rd Congress in September 2020.
Disclosures
Guy M. Goodwin is a NIHR Emeritus Senior Investigator and Medical Director at P1vital products, holds shares in P1vital and P1vital products, has served as consultant, advisor or CME speaker in the last 3 years for Beckley Psytech, Clerkenwell Health, Compass pathways, Evapharma, Janssen, Lundbeck, Medscape, Novartis, Ocean Neuroscience, P1Vital, Sage, Servier, and has received an honorarium from Servier for the presentation on which this publication is based. The views expressed are those of the author(s) and not necessarily those of the NHS, the NIHR or the Department of Health.
Compliance with Ethics Guidelines
This article is based on previously conducted studies and does not contain any new studies with human participants or animals performed by the authors.
Data Availability
Data sharing is not applicable to this article as no datasets were generated or analysed during the current study.
Open Access
This article is licensed under a Creative Commons Attribution-NonCommercial 4.0 International License, which permits any non-commercial use, sharing, adaptation, distribution and reproduction in any medium or format, as long as you give appropriate credit to the original author(s) and the source, provide a link to the Creative Commons licence, and indicate if changes were made. The images or other third party material in this article are included in the article's Creative Commons licence, unless indicated otherwise in a credit line to the material. If material is not included in the article's Creative Commons licence and your intended use is not permitted by statutory regulation or exceeds the permitted use, you will need to obtain permission directly from the copyright holder. To view a copy of this licence, visit
http://​creativecommons.​org/​licenses/​by-nc/​4.​0/​
.