01.12.2015 | Research article | Ausgabe 1/2015 Open Access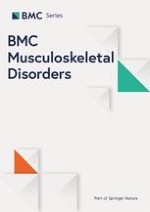 RFE based chondroplasty in wrist arthroscopy indicates high risk for chrondocytes especially for the bipolar application
Zeitschrift:
Autoren:

Michaela Huber, Christoph Eder, Markus Loibl, Arne Berner, Johannes Zellner, Richard Kujat, Michael Nerlich, Sebastian Gehmert
Wichtige Hinweise
Competing interests
The authors declare that they have no competing interest.
Authors' contributions
MH conceived of the study, participated in its conception and design, supervised the study, is the main author; CE performed the statistical analysis and helped draft the manuscript; JZ performed the acquisition of data and helped draft the manusscript; ML performed the acquisition of data and helped draft the manusscript; AB performed the acquisition of data and helped draft the manusscript; RK developed the 8-chanel custom build simultaneous measuring device; made substantial contributions to the conception an the design of the study. MN made substantial contribution to the design, was a contributor revising the manuscript; SG was a major contributor in analyzing and interpretation of the data and in writing the manuscript. All authors have read and approved the final manuscript.
Abstract
Background
The application of radiofrequency energy (RFE) has become widespread for surgical performed chondroplasty especially due to the anticipated sealing effect, however the safety of this procedure in the wrist remains unclear. The purpose of this study was to investigate the subchondral temperature during radiofrequency energy (RFE) application simulating chondroplasty in an arthroscopic setting of the wrist.
Methods
A chondroplasty of the lunate fossa was performed during an arthroscopy setting on 14 cadaver arms using monopolar or biopolar RFE. The temperature was recorded simultaneously from 7 predefined anatomical landmarks.
Results
The mean temperature for both application modes did not exceed more than 30°C at all measured points, except for the lunate fossa. The highest subchondral measured peak temperature was 49.35°C (monopolar) and 69.21°C (bipolar) in the lunate fossa. In addition, the temperature decreased for both radiofrequency (RF) devices depending on the distance of the sensors to the RF-probe.
Conclusion
It remains to be questionable how safe RFE can be used for chondroplasty in wrist arthroscopy under continuous irrigation and constant movement to obtain the desired sealing effect. However, the bipolar device should be applied with more caution since peak temperature in the lunate fossa almost reached 70°C even under continuous irrigation.