28.09.2016 | Original Article | Ausgabe 2/2017 Open Access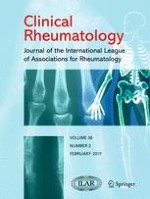 Rheumatologists' adherence to a disease activity score steered treatment protocol in early arthritis patients is less if the target is remission
Zeitschrift:
Autoren:

G. Akdemir, I.M. Markusse, Y.P.M. Goekoop-Ruiterman, G.M. Steup-Beekman, B.A.M. Grillet, P.J.S.M. Kerstens, W.F. Lems, T.W.J. Huizinga, C.F. Allaart
Wichtige Hinweise
Electronic supplementary material
The online version of this article (doi:
10.​1007/​s10067-016-3405-8
) contains supplementary material, which is available to authorized users.
BeSt-study: [NTR262, NTR 265 (Dutch trial registry)] IMPROVED-study
: [
ISRCTN Register number 11916566 and EudraCT number 2006 06186-16]
Abstract
To compare rheumatologists' adherence to treatment protocols for rheumatoid arthritis (RA) targeted at Disease Activity Score (DAS) ≤2.4 or <1.6. The BeSt-study enrolled 508 early RA (1987) patients targeted at DAS ≤2.4. The IMPROVED-study included 479 early RA (2010) and 122 undifferentiated arthritis patients targeted at DAS <1.6. We evaluated rheumatologists' adherence to the protocols and assessed associated opinions and conditions during 5 years. Protocol adherence was higher in BeSt than in IMPROVED (86 and 70 %), with a greater decrease in IMPROVED (from 100 to 48 %) than in BeSt (100 to 72 %). In BeSt, 50 % of non-adherence was against treatment intensification/restart, compared to 63 % in IMPROVED and 50 vs. 37 % were against tapering/discontinuation. In both studies, non-adherence was associated with physicians' disagreement with DAS or with next treatment step and if patient's visual analogue scale (VAS) for general health was ≥20 mm higher than the physician's VAS. In IMPROVED, also discrepancies between swelling, pain, erythrocyte sedimentation rate, and VASgh were associated with non-adherence. Adherence to DAS steered treatment protocols was high but decreased over 5 years, more in a DAS <1.6 steered protocol. Non-adherence was more likely if physicians disagreed with DAS or next treatment step. In the DAS <1.6 steered protocol, non-adherence was also associated with discrepancies between subjective and (semi)objective disease outcomes, and often against required treatment intensification. These results may indicate that adherence to DAS-steered protocols appears to depend in part on the height of the target and on how physicians perceive the DAS reflects RA activity.