30.12.2017 | Original Paper | Ausgabe 4/2018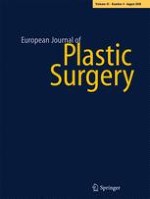 Rhinoplasty in elderly patients: analysis of outcomes and patient's satisfaction following 20 years experiences
Zeitschrift:
Autoren:

Mauro Barone, Annalisa Cogliandro, Gabriella Cassotta, Matteo Signoretti, Nicola Di Stefano, Vittoradolfo Tambone, Paolo Persichetti
Abstract
Background
Rhinoplasty is one of the most complex procedures in plastic surgery. In patients over 65, the procedure is even more demanding because of the coexistence of multiple complicating psychological and anatomical factors. The aims of our study were to analyze the necessity of rhinoplasty in elderly patients, to analyze the perception of patients before and after procedures and compare these patients with younger population, to review all cases done in our department over the past 20 years, and to summarize all procedures.
Methods
We designed a retrospective study of patients that had submitted to primary rhinoplasty by the same surgical team from 1997 to 2017. The inclusion criteria were as follows: Italian national patients of either sex over 65 years old who underwent primary rhinoplasty in our department. The exclusion criteria were as follows: psychiatric disorder, abuse of alcohol or drugs, patients who had undergone secondary rhinoplasty, or patients with previous trauma. Our final sample was 125 patients. We submitted FACE-Q rhinoplasty module to 25 patients comparing the results with a control group of younger patients.
Results
Of 1703 patients who underwent primary rhinoplasty in our Department of Plastic Surgery from 1997 to 2017, only 125 were over 65 years old. The average age was 68 years old, with 72 male and 53 female patients. From June 2016 to May 2017, the Italian version of FACE-Q rhinoplasty module was given to 25 elderly patients pre- and postoperatively and to 25 younger patients (control group), for comparison. All patients answered the postoperative module 6 months after their procedure. The most noticeable result was in tip perception, in fact in the > 65 years old group. Two surgeons reviewed and summarized all 125 cases and procedures, which were 89 open approach, 36 closed approach, 17 reduction rhinoplasty, 108 augmentation rhinoplasty, 47 dorsum grafts, 159 tip grafts, 9 alar region grafts, and 5 other grafts.
Conclusions
The tip of the nose is the focus of attention for older patients who want to undergo this surgery and require surgical procedures for increased projection and support. Augmentation rhinoplasty plays a fundamental role in the remodeling of the nose in patients over 65 years old.
Level of Evidence: Level III, risk/prognostic study.