13.07.2019 | Original Paper | Ausgabe 6/2019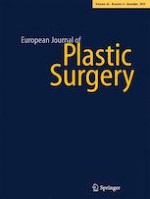 Rhinoplasty in the deviated nose: patterns of recurrence and role of facial asymmetry
Zeitschrift:
Autoren:

Yves L. J. Goffart, Sarah Remacle
Wichtige Hinweise
Key Points
What is the postoperative evolution of primary rhinoplasty in deviated nose? What are the factors that contribute to recurrences?
Some degree of re-deviation is often observed following rhinoplasty in crooked nose. The process is gradual over the first weeks and tends to stabilize after 3 months to 1 year postoperatively. Facial asymmetry is observed in most patients with deviated nose.
The re-deviation pattern observed even slightly over time suggests the role of elastic forces. Besides cartilage resilience from the nasal septum, asymmetry in the facial soft is involved in nasal axis re-deviation.
The results of this study have been presented by Yves LJ Goffart at the 12th International Symposium of Facial Plastic Surgery on October 17, 2018, Dallas, TX.
Publisher's note
Springer Nature remains neutral with regard to jurisdictional claims in published maps and institutional affiliations.
Abstract
Background
Various hypothesis concerning recurrence of nasal deviation have been proposed in the literature but are not clearly demonstrated.
Methods
This retrospective study including 50 consecutive patients with a non-traumatic deviated was conducted to determine the pattern of nasal axis stabilization after rhinoplasty of the deviated nose on the basis of three anthropometric measurements: median face axis (MFA), interpupillary meridian axis (IMA), and scoliosis angle (SA). We studied possible mechanisms associated with progressive re-deviation occurring over time even to a very slight degree in many patients, and we reviewed the mechanisms associated with asymmetry of the face and nose. The hypothesis regarding recurrences and possible modification of surgical procedures are discussed. We retrospectively examined the pattern of recurrence of deviation over time in a consecutive series of non-traumatic patients undergoing primary esthetic or functional rhinoplasty. Patients were followed at 1 week, 2 weeks, 1 month, 3 months, and 1 year.
Results
Of the patients, 92% (46/50) had an asymmetric face after comparing two anthropometric angles: MFA and IMA. Gradual re-deviation occurred in almost every patient, although very slightly, as MFA shifted from 4.1° ± 3.1 preoperatively to 1.0° ± 1.1 at 2 weeks, 1.1° ± 1.5 at 3 months, and 1.7° ± 2 at 1 year. IMA shifted from 4.7° ± 3.3 preoperatively to 0.9° ± 1.7 at 2 weeks, 1.5° ± 1.9 at 3 months, and 1.6° ± 2.8 at 1 year. SA shifted from 171.7° ± 6.2 preoperatively to 179.7° ± 1.4 at 2 weeks, 178.7° ± 3 at 3 months, and 177.8° ± 3 at 1 year. Stabilization was observed after 3 months to 1 year.
Conclusions
Facial asymmetry is present in most patients with a deviated nose. Nasal deviation often recurs, even after adequate surgery. The re-deviation pattern is progressive over the first few months after surgery. Midfacial hypotrophy may play a role in the formation of bony foundation defects of the nose and dynamic and asymmetric soft tissue forces over time. For the "facial envelope theory," designing a surgical approach that would test this hypothesis is needed.
Level of Evidence: Level III, therapeutic study.