01.12.2012 | Original investigation | Ausgabe 1/2012 Open Access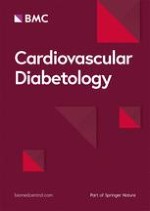 RhoA/ROCK-dependent moesin phosphorylation regulates AGE-induced endothelial cellular response
Zeitschrift:
Autoren:

Jiping Wang, Hongxia Liu, Bo Chen, Qiang Li, Xuliang Huang, Liqun Wang, Xiaohua Guo, Qiaobing Huang
Wichtige Hinweise
Electronic supplementary material
The online version of this article (doi:
10.​1186/​1475-2840-11-7
) contains supplementary material, which is available to authorized users.
Jiping Wang, Hongxia Liu contributed equally to this work.
Competing interests
The authors declare that they have no competing interests.
Authors' contributions
QH conceived the study, arranged the collaboration, initiated the manuscript, edited and compiled the final version for submission. JW and HL participated in its design and coordination. JW, HL, BCh, QL, XH, LW, XG performed Laboratory analyses and study design. All authors read and approved the final manuscript.
Abstract
Background
The role of advanced glycation end products (AGEs) in the development of diabetes, especially diabetic complications, has been emphasized in many reports. Accumulation of AGEs in the vasculature triggers a series of morphological and functional changes in endothelial cells (ECs) and induces an increase of endothelial permeability. This study was to investigate the involvement of RhoA/ROCK-dependent moesin phosphorylation in endothelial abnormalities induced by AGEs.
Methods
Using human dermal microvascular endothelial cells (HMVECs), the effects of human serum albumin modified-AGEs (AGE-HSA) on the endothelium were assessed by measuring monolayer permeability and staining of F-actin in HMVECs. Activations of RhoA and ROCK were determined by a luminescence-based assay and immunoblotting. Transfection of recombinant adenovirus that was dominant negative for RhoA (RhoA N19) was done to down-regulate RhoA expression, while adenovirus with constitutively activated RhoA (RhoA L63) was transfected to cause overexpression of RhoA in HMVECs. H-1152 was employed to specifically block activation of ROCK. Co-immunoprecipitation was used to further confirm the interaction of ROCK and its downstream target moesin. To identify AGE/ROCK-induced phosphorylation site in moesin, two mutants pcDNA3/HA-moesinT558A and pcDNA3/HA-moesinT558D were applied in endothelial cells.
Results
The results showed that AGE-HSA increased the permeability of HMVEC monolayer and triggered the formation of F-actin-positive stress fibers. AGE-HSA enhanced RhoA activity as well as phosphorylation of ROCK in a time- and dose-dependent manner. Down-regulation of RhoA expression with RhoA N19 transfection abolished these AGE-induced changes, while transfection of RhoA L63 reproduced the AGE-evoked changes. H-1152 attenuated the AGE-induced alteration in monolayer permeability and cytoskeleton. The results also confirmed the AGE-induced direct interaction of ROCK and moesin. Thr558 was further identified as the phosphorylating site of moesin in AGE-evoked endothelial responses.
Conclusion
These results confirm the involvement of RhoA/ROCK pathway and subsequent moesin Thr558 phosphorylation in AGE-mediated endothelial dysfunction.