01.12.2018 | Research article | Ausgabe 1/2018 Open Access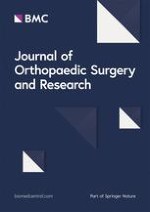 Risk factor analysis for postoperative complications requiring revision surgery after transtrochanteric rotational osteotomy for osteonecrosis of the femoral head
Zeitschrift:
Autoren:

Kazuyuki Karasuyama, Goro Motomura, Satoshi Ikemura, Jun-ichi Fukushi, Satoshi Hamai, Kazuhiko Sonoda, Yusuke Kubo, Takuaki Yamamoto, Yasuharu Nakashima
Abstract
Background
This study investigated the risk factors for postoperative complications requiring revision surgery within 3 years after transtrochanteric rotational osteotomy (TRO) for osteonecrosis of the femoral head (ONFH).
Methods
We reviewed 127 patients (147 hips) who underwent TRO (anterior or posterior rotational osteotomy) for ONFH between January 2002 and December 2014. Two patients were lost to follow-up, and five patients with progression of femoral head collapse requiring a salvage procedure such as total hip arthroplasty within 3 years after TRO were excluded. The better hip in patients treated bilaterally was also excluded (
n
 = 20) to avoid duplication of patient demographics, leaving 120 hips (120 patients) for the analysis. We reviewed the medical records of each patient to screen for postoperative complications that required revision surgery within 3 years after surgery, recording the patient's age, sex, body mass index, surgical side, condition of the contralateral hip, previous alcohol intake, previous alcohol abuse, previous corticosteroid use, perioperative corticosteroid use, smoking status, preoperative stage and type of ONFH, preoperative activity level, and preoperative and final follow-up Japanese Orthopaedic Association scores. Differences between cases with and without complications were analyzed.
Results
Eleven (9.2%) cases showed postoperative complications that required revision surgery. The most common complication was deep infection (
n
 = 5), followed by nonunion of the greater trochanter (
n
 = 3), nonunion of the intertrochanteric osteotomy site (
n
 = 2), and femoral head fracture (
n
 = 1). The multivariate analysis showed an independent association between previous alcohol abuse and postoperative complications (odds ratio, 13.5).
Conclusion
A correlation might exist between alcohol abuse and complications following a TRO procedure.