01.06.2014 | Original Article | Ausgabe 3/2014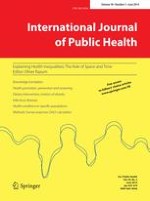 Risk factor awareness in a coronary population and the association with health-related quality of life outcomes
Zeitschrift:
Autoren:

Delphine De Smedt, Els Clays, Lieven Annemans, Sofie Pardaens, Kornelia Kotseva, Dirk De Bacquer
Abstract
Objectives
The purpose of this study was to investigate the risk factor level awareness in coronary patients and to assess its associations with health-related quality of life (HRQoL)/psychological distress.
Methods
Data on 8,743 coronary patients from 22 European countries, interviewed and examined at least 6 months after their acute event was available.
Results
81.7 % of patients indicated to be aware of their own blood pressure level, whereas only 46.6 % of patients indicated to be aware of their cholesterol level. Furthermore, 43.7 % of patients were aware of their blood glucose level, whereas in diabetes patients blood glucose level awareness reached 81.8 %. Risk factor level awareness was significantly associated with HRQoL/psychological distress, with patients being unaware of their risk factor levels having worse outcomes. The relationship between awareness and HRQoL/psychological distress seemed to be partly mediated by the attempt of patients to adopt a healthier behaviour.
Conclusions
Health care workers should be encouraged to inform their patients about the importance of their coronary risk factors, the actual level and their personal target.