26.06.2019 | Original Article | Ausgabe 9/2019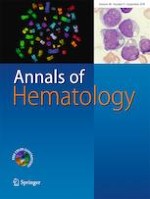 Risk factors and clinical outcomes of Epstein–Barr virus DNAemia and post-transplant lymphoproliferative disorders after haploidentical and matched-sibling PBSCT in patients with hematologic malignancies
Zeitschrift:
Autoren:

Xiao-Ning Gao, Ji Lin, Li-Jun Wang, Fei Li, Hong-Hua Li, Shu-Hong Wang, Wen-Rong Huang, Chun-Ji Gao, Li Yu, Dai-Hong Liu
Wichtige Hinweise
Electronic supplementary material
Xiao-Ning Gao, Ji Lin and Li-Jun Wang contributed equally to this work.
Publisher's note
Springer Nature remains neutral with regard to jurisdictional claims in published maps and institutional affiliations.
Abstract
In allogeneic hematopoietic stem cell transplantation recipients, reactivation of Epstein–Barr virus (EBV) can cause post-transplantation lymphoproliferative disorder (PTLD), which may rapidly progress to multiorgan failure and even death. Development of EBV PTLD correlates very closely with use of anti-thymocyte globulin (ATG) and type of transplant. To assess the incidences and clinical features of EBV DNAemia and PTLD in the setting of stem cell transplantation using unmanipulated G-CSF-primed allogeneic peripheral blood stem cells as graft, we performed a retrospective analysis of stem cell transplantation from HLA-matched sibling donors (MSD-SCT,
n
 = 90) or HLA-haploidentical related donors (HID-SCT,
n
 = 110) in patients with hematological malignancies. All of HID-SCT recipients and 27.8% of MSD-SCT recipients received an ATG-containing conditioning regimen. One-year cumulative incidence of EBV DNAemia was 44.1%, ranging from 4.8% in MSD-SCT recipients not using ATG to 20.0% in MSD-SCT recipients using ATG, and 73.7% in HID-SCT recipients. Risk factors for EBV reactivation included use of ATG (
p =
0.008), male donor (
p =
0.034), and cytomegalovirus DNAemia (
p <
0.001). One-year incidence of EBV PTLD was 11.9%, ranging from 1.8% in recipients of MSD-SCT not using ATG to 4.4% in recipients of MSD-SCT using ATG, and 23.5% in recipients of HID-SCT. Risk factors for PTLD after HID-SCT included in fludarabine-containing conditioning regimen (
p
 = 0.010), cytomegalovirus DNAemia (
p
 = 0.036), and patient's age < 40-yr (
p
 = 0.032). Two-year non-relapse mortality was higher for patients with EBV DNAemia than those without EBV DNAemia (35.8% vs. 15.3%,
p =
0.002). One-year relapse-free survival and overall survival among patients with PTLD were 40.2% and 44.9%, respectively, as opposed to 63.4% and 68.4% among patients without PTLD (both
p
 < 0.05). In multivariate analyses, EBV DNAemia predicted a lower risk of relapse (
p =
0.025), while PTLD was a marginally significant predictor of relapse (
p =
0.092). This study identified patients at risk of EBV reactivation and PTLD after unmanipulated allogeneic peripheral blood stem cell transplantation.