30.01.2021 | Original Article | Ausgabe 3/2021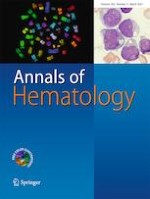 Risk factors and predictors of treatment responses and complications in immune thrombocytopenia
Zeitschrift:
Autoren:

Shin Yeu Ong, Chuen Wen Tan, Vajjhala Ramya, Aisyah A. Malik, Xiu Hue Lee, Jordan C. C. Hwang, Yong Yang, Heng Joo Ng, Lai Heng Lee
Wichtige Hinweise
Supplementary Information
Publisher's note
Springer Nature remains neutral with regard to jurisdictional claims in published maps and institutional affiliations.
Abstract
Management of adult patients with immune thrombocytopenia (ITP) is often unsatisfactory, due to variable efficacy of treatment, risk of life-threatening bleeding if disease control is poor, and side effects associated with treatment. Lack of data on the platelet count threshold associated with bleeding and infection risk associated with ITP treatment limits risk/benefit clinical decision making. We reviewed medical records of all ITP patients who were admitted to our hospital between 2012 and 2017 to evaluate the platelet count threshold for bleeding, infection burden associated with treatment, and real-world efficacy of second-line treatment. We demonstrated fair discrimination between platelet count and occurrence of bleeding, with 15 × 109/L being the optimal cut-off for predicting any bleeding while 20 × 109/L had the highest negative predictive value for severe bleeding. In multivariable analyses, patients who were treated with corticosteroids for at least 2 months were 5.3 times as likely to have an infection. In addition, rituximab response was strongly associated with response to frontline corticosteroids and infection was associated with older age ≥ 65 years and corticosteroid dependence. If corticosteroids are initiated, physicians should aim for the shortest duration of treatment before switching to effective second-line agents for hemostatic platelet counts.