01.12.2015 | Research article | Ausgabe 1/2015 Open Access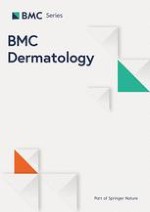 Risk factors associated with abscess formation among patient with leg erysipelas (cellulitis) in sub-Saharan Africa: a multicenter study
Zeitschrift:
Autoren:

Palokinam Vincent Pitché, Bayaki Saka, Ahy Boubacar Diatta, Ousmane Faye, Boh Fanta Diané, Abdoulaye Sangaré, Pascal Niamba, Christine Mandengue, Léon Kobengue, Assane Diop, Fatimata Ly, Mame Thierno Dieng, Alassane Dicko, Maciré Mohamed Soumah, Mohamed Cissé, Sarah Hamdan Kourouma, Isidore Kouassi, Taniratou Boukari, Sefako Akakpo, Dadja Essoya Landoh, Kissem Tchangaï-Walla
Wichtige Hinweise
Competing interests
DEL works for the World Health Organization, country office of Togo.
The other authors declare that they have no competing interests.
Authors' contributions
BS: contributed in the management of patients. He participated in data collection and wrote the manuscript. ABD, OF, BFD, AS, PN, CM, LK, AD, FL, MTD, AD, MMS, MC, SHK, IK, TB, SA, KTW: contributed to the clinical and therapeutic management of patients from a dermatological point-of-view. They were involved in data collection and interpretation. They have revised and finalized the manuscript. DEL: Participated in data analysis and interpretation. He was involved in the manuscript writing and its finalization. PVP was responsible for the overall scientific coordination of the study, for data analysis and interpretation, and the preparation of the final manuscript. All the authors had read and approved the final manuscript to be submitted for publication.
Abstract
Background
Abscess formation is a frequent local complication of leg erysipelas. In this study we aimed at identifying factors associated with abscess formation of leg erysipelas in patients in sub-Saharan African countries.
Method
This is a multicenter prospective study conducted in dermatology units in eight sub-Saharan African countries from October 2013 to September 2014. We performed univariate and multivariate analysis to compare characteristics among the group of patients with leg erysipelas complicated with abscess against those without this complication.
Results
In this study, 562 cases of leg erysipelas were recruited in the eight sub-Saharan African countries. The mean age of patients was 43.67 years (SD =16.8) (Range: 15 to 88 years) with a sex-ratio (M/F) of 5/1. Out of the 562 cases, 63 patients (11.2 %) had abscess formation as a complication. In multivariate analysis showed that the main associated factors with this complication were: nicotine addiction (aOR = 3.7; 95 % CI = [1.3 – 10.7]) and delayed antibiotic treatment initiation (delay of 10 days or more) (aOR = 4.6; 95 % CI = [1.8 – 11.8]).
Conclusion
Delayed antibiotics treatment and nicotine addiction are the main risk factors associated with abscess formation of leg erysipelas in these countries. However, chronic alcohol intake, which is currently found in Europe as a potential risk factor, was less frequent in our study.