01.08.2011 | Original Paper | Ausgabe 8/2011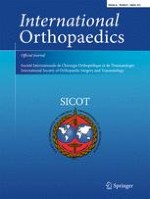 Risk factors for anterior cruciate ligament injury: assessment of tibial plateau anatomic variables on conventional MRI using a new combined method
Zeitschrift:
Autoren:

Mohammad Shahnawaz Khan, Jong Keun Seon, Eun Kyoo Song
Abstract
Purpose
The purpose of this study was to assess, in anterior cruciate ligament (ACL)-injured and -uninjured population, tibial plateau anatomic variables [medial and lateral tibial plateau slopes (MTPS and LTPS) and medial tibial plateau depth (MTPD)] on conventional magnetic resonance imaging (MRI) using a novel combined method and to determine whether these variables are risk factors for ACL injury.
Methods
Seventy-three isolated ACL-injury patients (20 women and 53 men) were compared with 51 control group patients (19 women and 32 men).
Results
The combined method had very high interrater and intrarater reliability compared with previously described methods. LTPS was significantly steeper in the overall injured group and injured men compared with the control group, with odds ratio (OR) of 3.031 and 5.89, respectively. Women with ACL injury had significantly shallower MTPD than uninjured women, with OR of 4.13.
Conclusions
We conclude that the new combined method is accurate and reproducible for assessing the tibial plateau anatomy. Women with shallower MTPD and men with steeper LTPS are at higher risk of sustaining ACL injury. Overall, steeper LTPS is a significant risk factor for sustaining ACL injury.