01.12.2017 | Research article | Ausgabe 1/2017 Open Access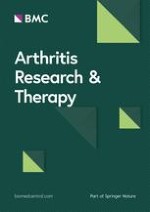 Risk factors for flare and treatment of disease flares during pregnancy in rheumatoid arthritis and axial spondyloarthritis patients
Zeitschrift:
Autoren:

Stephanie van den Brandt, Astrid Zbinden, Dominique Baeten, Peter M. Villiger, Monika Østensen, Frauke Förger
Wichtige Hinweise
Electronic supplementary material
The online version of this article (doi:
10.​1186/​s13075-017-1269-1
) contains supplementary material, which is available to authorized users.
Abstract
Background
During pregnancy, patients with rheumatoid arthritis (RA) and axial spondyloarthritis (axSpA) can experience active disease, which might be influenced by adjustment of treatment around conception. The aim of this study was to identify possible risk factors of disease flares during pregnancy and to evaluate the effect of treatment in pregnant patients experiencing a flare.
Methods
Pregnant patients with RA and axSpA were prospectively followed before, during, and after pregnancy. Disease activity and flares of disease activity were analyzed in regard to medication.
Results
Among 136 pregnant patients, disease flares during pregnancy occurred in 29% of patients with RA and in 25% of patients with axSpA. In both diseases, active disease and tumor necrosis factor inhibitor (TNFi) discontinuation in early pregnancy were identified as risk factors for disease flares during pregnancy. Of 75 patients with RA, 15 patients were on TNFi and discontinued the treatment at the time of the positive pregnancy test. After stopping TNFi, disease activity increased, which was reflected by peaking C-reactive protein levels at the first trimester. The relative risk of flare in patients with RA stopping TNFi was 3.33 (95% CI 1.8–6.1). Initiation of TNFi or glucocorticosteroid (GC) treatment in 60% of these patients resulted in disease improvement at the second and third trimesters. In comparison, patients with RA without TNFi in the preconception period, most of whom had used pregnancy-compatible antirheumatic drugs, showed mild and stable disease activity before and during pregnancy. Of 61 patients with axSpA, 24 patients were on TNFi and discontinued the treatment at the time of the positive pregnancy test. In patients with axSpA stopping TNFi, a disease aggravation at the second trimester could be observed. The relative risk of flare in this group was 3.08 (95% CI 1.2–7.9). In spite of initiated TNFi or GC treatment in 62.5% of these patients, disease activity remained elevated throughout pregnancy. Patients with axSpA without TNFi in the preconception period showed persistent high disease activity from prepregnancy until the postpartum period.
Conclusions
On the basis of a risk-benefit analysis, to stabilize disease activity and to prevent a flare during pregnancy in patients with RA and axSpA, tailored medication including TNF inhibitors should be considered beyond conception.