01.12.2017 | Research article | Ausgabe 1/2017 Open Access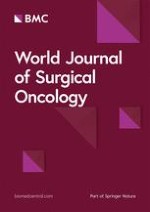 Risk factors of liver metastasis from advanced pancreatic adenocarcinoma: a large multicenter cohort study
Zeitschrift:
Autoren:

Dong S., Wang L., Guo Y. B., Ying H. F., Shen X. H., Meng Z. Q., Chen Hao, Chen Q. W., Li Z. S.
Abstract
Background
Clinical prognostic parameters of liver metastasis from pancreatic adenocarcinoma have not been specifically identified.This study is to explore the risk factors of liver metastasis in advanced pancreatic adenocarcinoma (PDAC) patients in China.
Methods
A multicenter cohort study was conducted to explore whether liver metastasis in locally advanced and metastatic PDAC could be reflected by some common laboratory indexes. We collected 1787 advanced PDAC patients from three participating hospitals between 2004 and 2014. The associations between some laboratory indexes and risks of liver metastases were analyzed.
Results
Results have shown that 87% of stage IV patients developed synchronous liver metastasis. Primary tumor location (body/tail vs. head/neck, OR 0.55, 95% CI 0.36-0.83), primary tumor diameter (≥20 mm vs. <20 mm, OR 1.77, 95% CI 1.16–2.70), elevated ALT and AST (OR 1.62, 95% CI 0.92–2.83), and elevated CA19-9 (OR 2.72, 95% CI 1.85–3.99) upon diagnosis are significantly associated with risk of synchronous liver metastasis. Among stage III patients, 30.1% developed metachronous liver metastasis. However, no risk factors were identified among these patients.
Conclusions
Primary tumor location, diameter, elevated ALT and AST, and increased CA19-9 are independent risk factors of synchronous liver metastasis in PDAC patients.