12.11.2018 | Original Article | Ausgabe 2/2019 Open Access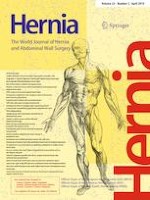 Risk factors of postoperative complications after emergency repair of incarcerated groin hernia for adult patients: a retrospective cohort study
Zeitschrift:
Autoren:

W. Dai, Z. Chen, J. Zuo, J. Tan, M. Tan, Y. Yuan
Wichtige Hinweise
W. Dai and Z. Chen equally contributed to this work.
Abstract
Purpose
This study aimed to explore risk factors of postoperative complications for adult patients with incarcerated groin hernia (IGH).
Methods
From January 2010 to December 2017, consecutive patients undergoing emergency hernia repair for IGH in our center were retrospectively reviewed. Postoperative complications, such as surgical site infection, seroma, hernia recurrence and mortality, were investigated, with risk factors for such complications analyzed using univariate and multivariate regressions.
Results
Sixty-four patients were included, with 51 males and 13 females (mean age 65.1, range 25–98 years). Ten patients (15.6%) underwent resection of necrotic bowel and anastomosis. 43 patients (67.2%) received open tension-free herniorrhaphy with polypropylene mesh, whereas the rest (32.8%) received herniorrhaphy without mesh. The overall postoperative complication rate was 40.6% (26/64), with an incisional complication rate of 31.2% (20/64) and an infection rate of 6.2% (4/64). At a median follow-up of 32 months, hernia recurrence and mortality were recorded in five cases each (7.8%). Mesh repair was associated with decreased recurrence rate compared with non-mesh repair (2.3% vs. 19.0%,
p
 = 0.019). Diabetes mellitus (OR 8.611, 95%CI 1.292–57.405;
p
 = 0.026) was an independent risk factor of postoperative complications, together with chronic obstructive pulmonary disease (COPD; OR 14.365, 95%CI 1.652–127.767,
p
 = 0.016), intestinal necrosis (OR 14.260, 95%CI 1.079–188.460,
p
 = 0.044), and general anesthesia (OR 14.543, 95%CI 1.682–125.711,
p
 = 0.015) as risk for incisional complications after surgery.
Conclusions
Diabetes mellitus was an independent risk factor of postoperative complications for IGH, along with COPD, intestinal necrosis and general anesthesia associated with incisional complications. The use of polypropylene mesh did not increase infection or recurrence rate in this cohort.