04.09.2015 | Original Article | Ausgabe 2/2016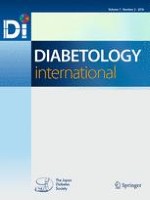 Risk of proteinuria among individuals with persistent borderline diabetes: the Saku study
Zeitschrift:
Autoren:

Yukako Tatsumi, Akiko Morimoto, Fumie Soyano, Tetsuo Shimoda, Naomi Miyamatsu, Yuko Ohno, Shiro Sakaguchi
Abstract
Objective
To investigate the risk of decreased estimated glomerular filtration rate (eGFR) and proteinuria among individuals with borderline diabetes.
Methods
This 5-year cohort study involved 2849 participants aged 30–79 years without diabetes or chronic kidney disease at baseline (April 2008–March 2009). Participants were categorized into two groups—normoglycemia and borderline diabetes—based on the results of a 75-g oral glucose tolerance test at baseline. Participants underwent annual comprehensive medical check-ups during the follow-up period until March 2014. Main outcomes were defined as proteinuria ≥[1+] or eGFR <60 ml/min/1.73 m2. Cox proportional hazards regression was used to estimate the hazard ratio (HR) and 95 % confidence interval (CI) of eGFR <60 ml/min/1.73 m2 and proteinuria ≥[1+] for the borderline diabetes group compared with the normoglycemia group.
Results
During the follow-up period, 335 individuals developed eGFR <60 ml/min/1.73 m2 and 136 individuals developed proteinuria ≥[1+]. Participants in the borderline diabetes group did not have a significantly higher risk of eGFR <60 ml/min/1.73 m2 or proteinuria ≥[1+] after multivariable adjustment. However, participants with borderline diabetes who were also diagnosed with borderline diabetes at the endpoint examination had a significantly higher risk of proteinuria ≥[1+] compared with participants with normoglycemia who also had normoglycemia at the endpoint examination; the HR (95 % CI) was 1.76 (1.11–2.78).
Conclusions
Persistent borderline diabetes significantly increases the risk of proteinuria.