01.03.2018 | Breast Oncology | Ausgabe 5/2018 Open Access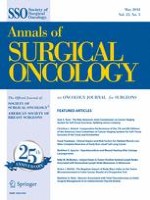 Risk of Regional Recurrence After Negative Repeat Sentinel Lymph Node Biopsy in Patients with Ipsilateral Breast Tumor Recurrence
Zeitschrift:
Autoren:

MD Ingrid G. M. Poodt, MD, PhD Guusje Vugts, MD, PhD Adriana J. G. Maaskant-Braat, MD, PhD Robert-Jan Schipper, PhD Adri C. Voogd, MD, PhD Grard A. P. Nieuwenhuijzen, Sentinel Node and Recurrent Breast Cancer (SNARB) study group
Wichtige Hinweise
Electronic supplementary material
Collaborators of the Sentinel Node and Recurrent Breast Cancer (SNARB) study group are listed in "Acknowledgment".
Abstract
Background
Repeat sentinel lymph node biopsy (rSLNB) has increasingly been used in patients with ipsilateral breast tumor recurrence (IBTR). The safety in terms of regional disease control after this procedure remains unclear. This study evaluates occurrence of regional recurrence as first event in patients with IBTR and negative rSLNB, treated without additional lymph node dissection.
Patients and Methods
Data were obtained from the Sentinel Node and Recurrent Breast Cancer (SNARB) study. In 201 patients, tumor-negative rSLNB was obtained without performing additional lymph node dissections.
Results
With median follow-up of 4.7 (range 0.9–12.7) years, regional recurrence occurred after median time of 3.0 (range 0.4–6.7) years in 4.5% (
N
= 9) of patients as first event after IBTR and rSLNB. In four of these nine patients, the site of recurrence was in concordance with the anatomical location of rSLNB. Two of the nine recurrences were reported in the ipsilateral axilla, resulting in an ipsilateral axillary regional recurrence rate of 1.0%. In the other seven patients, regional recurrence occurred in aberrant basins. Univariable analysis showed that triple-negative IBTR and lower amount of radioactive-labeled tracer (
99m
technetium) used during rSLNB were associated with developing regional recurrence as first event after negative rSLNB (
P
< 0.05).
Conclusions
The risk of developing regional recurrence after negative rSLNB is low. The low relapse rate supports the safety of rSLNB as primary nodal staging tool in IBTR. The time has come for clinical guidelines to adopt rSLNB as axillary staging tool in patients with IBTR.