15.11.2018 | Original Article | Ausgabe 5/2019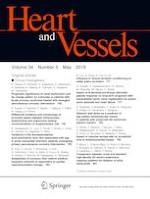 Risk of venous thromboembolism after endoprosthetic surgeries: lower versus upper extremity endoprosthetic surgeries
Zeitschrift:
Autoren:

Karsten Keller, Lukas Hobohm, Martin Engelhardt
Abstract
Venous thromboembolism (VTE) is a potentially fatal disease. Important risk factors of a provoked VTE are trauma, surgery or immobilization. Especially, patients who undergo hip and knee replacements are at high risk for postoperative VTE. We aimed to compare in-hospital VTE burden and other outcomes after upper and lower extremity endoprosthetic surgeries in Germany. The nationwide German inpatient sample of the years 2005–2015 was used for data analysis. Patients who underwent endoprosthetic joint/bone replacements of the extremities (OPS codes 5-820, 5-822, 5-824 and 5-826) were further stratified in those operated on lower (OPS codes 5-820, 5-822 and 5-826) or upper extremity (OPS code 5-824) joints. Patients operated at upper and lower extremity were compared and lower extremity endoprosthetic surgery was investigated as a predictor for adverse outcomes. Overall, 4,134,088 hospitalized patients with extremity joint endoprosthetic surgeries (64.3% females, 54.0% aged > 70 years) were included in our analysis. Of these, 3,950,668 patients (95.6%) undergo lower and 183,420 (4.4%) upper extremity endoprosthetic joint surgery. VTE [RR 2.60 (95% CI 2.41–2.79),
P
 < 0.001] and all-cause death [RR 1.68 (95% CI 1.58–1.77),
P
 < 0.001] were more common in patients with lower extremity joint surgery. Risk for VTE events [OR 2.69 (2.50–2.90),
P
 < 0.001] and in-hospital death [OR 1.65 (1.56–1.75),
P
 < 0.001] were both higher in lower than in upper extremity joint surgeries independently of age, sex and comorbidities. Patients who undergo lower extremity endoprosthetic joint surgeries, bear a higher risk for VTE and in-hospital death compared to those with upper extremity endoprosthetic joint surgeries.