01.12.2018 | Research article | Ausgabe 1/2018 Open Access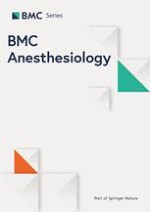 Risk prediction tool for use and predictors of duration of postoperative oxygen therapy in children undergoing non-cardiac surgery: a case-control study
Zeitschrift:
Autoren:

Maliwan Oofuvong, Siriwimol Ratprasert, Thavat Chanchayanon
Wichtige Hinweise
Electronic supplementary material
Abstract
Background
We aimed to construct a prediction tool for postoperative oxygen therapy and determine predictors of duration of use among children undergoing non-cardiac surgery.
Methods
Data from this case-control study was obtained from a database of 9820 children aged < 15 years who underwent general anesthesia between January 2010 and December 2013 at a tertiary care hospital in southern Thailand. The primary outcomes were the use and duration (hours) of postoperative oxygen therapy (cases). Cases were matched with controls on age group and year of surgery in a ratio of 1:4. A negative binomial hurdle model was used to obtain significant predictors of any use and number of hours of oxygen therapy. A risk score was derived from the coefficients of the significant predictors. The risk score, adjusted odds ratio (OR) for any use and count ratio (CR) for duration of postoperative oxygen therapy and 95% confidence interval (CI) were determined.
Results
A total of 288 cases and 1152 controls were included. The median (inter-quartile range) duration of oxygen therapy delivered was 17 (9–22) hours. An optimal risk score for predictors of oxygen use was 12 (0–32) giving an area under the receiver operating characteristic curve of 0.93. Predictors of high risk need for oxygen therapy (score ≥ 12) were thoracic surgery (OR = 278, 95% CI = 44.6–1733) and having desaturation perioperatively (OR = 459.8, 95% CI = 169.7–1246). Intermediate risk factors (score 8–11) were having bronchospasm (OR = 92.4, 95% CI = 29.7–287.5) and upper airway obstruction/laryngospasm (OR = 61.5, 95% CI = 14.4–262.4) perioperatively. Significant predictors of duration of oxygen therapy were probably difficult airway (CR = 2.2, 95% CI = 1.4–3.5), history of delayed development (CR = 2.3, 95% CI = 1.5–3.6), airway (CR = 3.0, 95% CI = 1.6–5.8), orthopedic (CR = 2.1, 95% CI = 1.1–4.3), thoracic (CR = 4.9, 95% CI = 2.3–10.1) and abdominal surgery (CR = 4.2, 95% CI = 2.1–8.1), compared to eye surgery.
Conclusions
Our risk prediction tool for the use of postoperative oxygen therapy provided a high predictive ability. Children who have thoracic surgery, desaturation, bronchospasm, upper airway obstruction or laryngospasm will most likely need postoperative oxygen therapy, regardless of other factors, while those with a probably difficult airway, history of delayed development, or thoracic/abdominal surgery will most likely need longer duration of oxygen therapy.