01.12.2014 | Research article | Ausgabe 1/2014 Open Access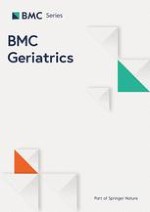 Risk stratification and rapid geriatric screening in an emergency department – a quasi-randomised controlled trial
Zeitschrift:
Autoren:

Chik Loon Foo, Vivan Wing Yin Siu, Hou Ang, Madeline Wei Ling Phuah, Chee Kheong Ooi
Wichtige Hinweise
Electronic supplementary material
The online version of this article (doi:
10.​1186/​1471-2318-14-98
) contains supplementary material, which is available to authorized users.
Competing interests
This study was supported by the Ministry of Health's Healthcare Quality Improvement and Innovation (HQI2) Fund 2011/11.
Authors' contributions
CLF, VWYS, MWLP and HA conceived the study, designed the trial, supervised the conduct of the trial and data collection, undertook recruitment of patients and managed the data, including quality control. CLF obtained research funding. CKO provided statistical advice on study design and analyzed the data. CLF and CKO drafted the manuscript, and all authors contributed substantially to its revision. CLF takes responsibility for the paper as a whole. All authors read and approved the final manuscript.
Abstract
Background
To determine if risk stratification followed by rapid geriatric screening in an emergency department (ED) reduced functional decline, ED reattendance and hospitalisation.
Method
This was a quasi-randomised controlled trial. Patients were randomised by the last digit of their national registration identity card (NRIC). Odd number controls received standard ED care; even number patients received geriatric screening, followed by intervention and/or onward referrals. Patients were followed up for 12 months.
Results
There were 500 and 280 patients in the control and intervention groups. The intervention group had higher Triage Risk Screening Tool (TRST) scores (34.3% vs 25.4% TRST ≥3, p = 0.01) and lower baseline Instrumental Activity of Daily Living (IADL) scores (22.84 vs 24.18, p < 0.01). 82.9% of the intervention group had unmet needs; 62.1% accepted our interventions. Common positive findings were fall risk (65.0%), vision (61.4%), and footwear (58.2%). 28.2% were referred to a geriatric clinic and 11.8% were admitted. 425 (85.0%) controls and 234 (83.6%) in the intervention group completed their follow-up. After adjusting for TRST and baseline IADL, the intervention group had significant preservation in function (Basic ADL -0.99 vs -0.24, p < 0.01; IADL -2.57 vs +0.45, p < 0.01) at 12 months. The reduction in ED reattendance (OR0.75, CI 0.55-1.03, p = 0.07) and hospitalization (OR0.77, CI0.57-1.04, p = 0.09) were not significant, however the real difference would have been wider as 21.2% of the control group received geriatric screening at the request of the ED doctor. A major limitation was that a large proportion of patients who were randomized to the intervention group either refused (18.8%) or left the ED before being approached (32.0%). These two groups were not followed up, and hence were excluded in our analysis.
Conclusion
Risk stratification and focused geriatric screening in ED resulted in significant preservation of patients' function at 12 months.
Trial registration
National Healthcare Group (NHG) Domain Specific Review Board (DSRB) C/09/023. Registered 5th March 2009.