01.12.2018 | Letter to the Editor | Ausgabe 1/2018 Open Access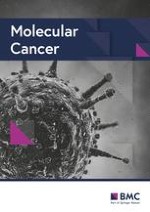 RNA-Seq profiling of circular RNAs in human laryngeal squamous cell carcinomas
Zeitschrift:
Autoren:

Cheng Lu, Xi Shi, Amanda Y. Wang, Yuan Tao, Zhenxiao Wang, Chaoping Huang, Yuehua Qiao, Hongyi Hu, Liangfa Liu
Wichtige Hinweise
Electronic supplementary material
Abbreviations
KEGG
Kyoto Encyclopedia of Genes and Genomes
LSCC
Laryngeal squamous cell carcinomas
PI3K-Akt
Phosphatidylinositol 3-Kinase–Akt
Main text
Laryngeal squamous cell carcinomas (LSCC) is a malignant carcinoma derived from the epithelial tissue of laryngeal mucosa. It is an aggressive head and neck neoplasm, which makes up approximately 2.4% in all emerging malignant tumors worldwide every year [
1
]. Moreover, there is an increasing incidence of LSCC in recent years. Multiply factors such as smoking and excessive alcohol consumption are contributing to the development of LSCC. Although recent research on LSCC have made some remarkable achievements, the etiology and pathogenesis underlying this disease development remains unclear. Over the last decade, despite of increasing numbers of research with a focus on identification of biomarkers to improve clinical outcomes of LSCC, LSCC is still associated with high morbidity and mortality. In particular, its prognosis remains very poor for patients with metastatic diseases, with a 5-year mortality rate of more than 50% [
2
]. Therefore, better understanding of biomarkers associated with LSCC can play an important role in disease stratification and prognostication. It can also potentially inform the development of novel targeted therapies.
In recent years, identification of biomarkers in certain types of tumors have led to development of targeted therapies and improved clinical outcomes for biomarkers derived subsets of patients. To date, the dysregulated expression of non-coding RNAs including lncRNA, microRNAs have been closely associated with pathogenesis of some human cancers. Several non-coding RNA [
3
] have shown to be significantly changed in different sorts of cancers [
4
]. Circular RNAs (circRNAs) are one of non-coding RNA discovered lately. They are produced by linking the 3′ and 5′ ends via the covalent bonds to form a closed loop, circRNAs. Due to this closed structure, circRNAs have been demonstrated to have a high level of stability and resistance to RNA degradation pathways [
5
]. Therefore, they may be more promising and technically suitable biomarkers for cancers [
6
]. Recent literatures have shown dysregulated expression of several circRNAs in human cancers [
7
]. Moreover, resent studies have confirmed that the expression of circular RNAs is different between the LSCC sample and its adjacent tissues via microarray detection [
8
].
Despite several potential circRNA biomarkers have been detected in LSCC, due to the limitation of using microarray technology that could only focus on the known candidate circRNAs preset on the chip, a large number of novel promising circRNAs in LSCC beyond this microarray analysis are waiting for further screening. Moreover, to our knowledge, there are no studies to date have yet profiled the relationship of the circRNA-miRNA-mRNA expression in human LSCC in details. Therefore, the aim of this study was to profile the LSCC related dysregulated circRNA via secondary sequencing technology to identify novel circRNA biomarkers. Meanwhile, the relationship of these circRNA and their potential binding miRNA-mRNA were further analyzed to improve our understanding of the pathogenesis of this disease.
Collection and grouping of the LSCC samples based on the pathological classification
Specimens were collected from patients with laryngeal cancer who underwent laryngectomy at the Department of Otolaryngology, Head Neck Surgery, Beijing Friendship Hospital affiliated to Capital Medical University, China between August 2016 and December 2017. Secondary sequencing was used to test 10 matched samples of the LSCC tissues and corresponding adjacent non-neoplastic tissues. Ten matched cancerous and noncancerous tissues were tested by real-time qPCR. The study was approved by the Ethics Committee of Beijing friendship hospital. The patients who had received any cancer therapy before admission were excluded from this study. After immediate snap-frozen in liquid nitrogen post-resection, these specimens were stored at − 80 °C. Histopathological examination of the laryngeal tissue specimens was independently carried out by two pathologists. After histopathological vetting, a total of ten laryngeal samples–consisting of five LSCC (which included three moderately differentiated and two well differentiated specimens), and five matching contralateral normal tissue samples were finally included in the study.
RNA isolation and next generation RNA sequencing analysis
RNA isolation was performed according to standardized protocols in an RNA-dedicated work area with an access to RNase/DNase-free water and RNase-free labware. In brief, total RNA was extracted from the samples with TRIzol reagent (Invitrogen, Carlsbad, CA, USA) according to the kit's instructions. The resulting RNA pellet was washed twice in 75% ethanol (1 ml), then air-dried, and re-suspended in RNase/DNase-free water (20 μl). After that, the Turbo DNase Kit (Ambion) was applied to the RNA solution to degrade any remaining DNA. The RNA was subsequently purified and concentrated with an RNeasy MinElute Cleanup kit (Qiagen, Valencia, CA, USA). The total RNA concentrations in the sample tissues and quality of each sample were then assessed with a NanoDrop ND1000 spectrophotometer (NanoDrop, Wilmington, DE, USA). Specifically, OD260/OD280 ratios between 1.8 and 2.1 deemed acceptable, while OD260/OD230 ratios of greater than 1.8 deemed acceptable. RNA integrity and DNA contamination were then assessed using electrophoresis on a denaturing agarose gel. In order to enrich pure circRNAs, linear RNAs were removed from the total RNA in each sample after treatment with RNase R (Epicentre, Inc.). The enriched circRNAs in each sample were amplified and fragmented into small pieces using divalent cations under an elevated temperature. RNA-seq library preparation was carried out using the NEBNext® Ultra™ Directional RNA Library Prep Kit for Illumina. Sequencing of the libraries was conducted on an Illumina HiSeq™ 3000 system following the vendor's recommended protocol (TruSeqR RNA Sample Preparation v2 Guide, Illumina Company Ltd).
HTSeq software was used to count the reads numbers mapped to each circRNA. RPM (Reads Per Million mapped reads, including TopHat mapping and TopHat-Fusion mapping) [
1
] was employed to calculate the expression level of individual circRNA. Differential expression between circRNAs was assessed by DEGseq algorithm. We defined the statistical criteria for selecting aberrant-expressed circRNA using a q-value < 0.05 with a fold change > 2.0 or < 0.5.
Quantitation of RNA using quantitative real-time reverse-transcription polymerase chain reaction (qRT-PCR)
Following RNA extraction from the LSCC and matching normal tissues (
n
 = 10 pairs), cDNA was synthesized with a reverse transcriptase according to the kit's instructions (SuperScript First-Strand Synthesis System for RT-PCR, Invitrogen, Carlsbad, CA, USA). circRNA expression was measured using qPCR (SYBR Green PCR Master Mix, Applied Biosystems, Foster City, CA, USA), conducted in a 20-μl reaction volume consisting of the following agents: 6.8 μl cDNA, 10 μl 2 x SYBR Green mix, 0.8 μl primer forward (5 μM), 0.8 μl primer reverse (5 μM), and 1.6 μl H2O. The qPCR reaction was then performed on an ABI 7300 Real-Time PCR System (Applied Biosystems): one 2-min cycle at 50 °C, one 10-min cycle at 95 °C, forty cycles of 15 s at 95 °C and 1 min at 60 °C. β-actin served as a control. PCR reactions were conducted three times. Relative circRNA expression was calculated using the 2 − ΔCt method.
Statistical analyses were performed using GraphPad Prism 5 (GraphPad Software, CA, USA), R software version 3.2.1 (
http://​www.​r-project.​org
/) and Microsoft Excel (Microsoft, DC, USA). Student's t-test was used to determine significance for differences in circRNA expression. A two-sided
P
value < 0.05 was considered statistically significant.
Prediction of circRNA-miRNA interactions
As circular RNAs were shown to have an impact on miRNA-mediated regulation of gene expression through miRNA sequestration [
9
], putative circRNA/miRNA interactions for the 12 differential circRNAs identified from the microarray and qRT-PCR validation experiments were predicted using the Arraystar miRNA target prediction software (Arraystar), based on TargetScan and miRanda algorithms [
9
]. The Arraystar software was then used to search for MREs on the 12 differential circRNAs to construct the circRNA-miRNA network [
9
]. After that, putative miRNAs were identified based on their seed-sequence complementarity using the circRNA-miRNA network. The parameters used for this Arraystar MRE analysis as previously described included [
9
]: 1) seed type (seed-sequence complementarity) between nucleotides 2–7, 2) proximity of AU-richness to seed sequence, and 3) proximity to nucleotides pairing with the miRNA's 3′ pairing sequence (nucleotides 13–16). The map of the circRNA/miRNA interaction network was then diagrammed using cytoscape 3.01.
Prediction of cancer-related circRNA-miRNA-target gene associations
Several online bioinformatics platforms were used in conjunction to predict circRNA-miRNA-target gene associations. First of all, miRNA candidates were identified in KEGG cancer-related pathways within the circRNA-miRNA network using the DIANA-miRPath v.3 platform, which has been reported in previous study [
10
], the candidate circRNA(s) were matched against the seed sequences of predicted target miRNA candidate(s) using the IntaRNA platform to predict interactions between RNA molecules. The settings that were applied to the DIANA-miRPath v.3 platform included: 0 suboptimal interactions, 5 minimum number of basepairs in seed, 0 maximum number of mismatches in seed, 37.0 temperature for energy computation, 22 folding window size target, and 22 max. Basepair distance (target). Finally, after validation of circRNA-target miRNA interaction, identification of the top ten-ranking cancer-related target genes for each of the target miRNA candidates were then performed using the DIANA-TarBase 7.0 database [
10
].
Findings
Conclusions
In conclusion, the high-throughput transcriptome sequencing and bioinformatics analysis of the laryngeal squamous cell carcinoma provides useful diagnostic markers and potential therapeutic targets for the future research of this disease.
Acknowledgements
The authors would like to thank to Prof. Weiwei Guo, the General Hospital of People's Liberation Army (301 hospital), China for constructive criticism of the manuscript. Special thanks also to Mr. Lei, Zhang for the provision of immunohistochemistry techniques.
Funding
This project was supported by the Scientific Research Common Program of Beijing Municipal Commission of Education (KM201510025028), Research Foundation of Beijing Friendship Hospital, Capital Medical University (No. yydszx2015–02 and yyqdkt2014–23). National Nature Science Foundation of China (81470684),. Clinical Special Fund of Jiangsu Province (b12014032).
Availability of data and materials
The datasets obtained and/or analyzed during the current study were available from the corresponding authors in a reasonable request.
Ethics approval and consent to participate
The human cancer tissues used in this study were approved by the institute ethical committee of Beijing Friendship Hospital, Capital Medical University. (Approval Number: YYBB-B01–01-R02-V4.0 / 20,170,605).
Consent for publication
We have received consents from individual patients who have participated in this study. The consent forms will be provided upon request.
Competing interests
The authors declare that they have no competing interests.
Publisher's Note
Springer Nature remains neutral with regard to jurisdictional claims in published maps and institutional affiliations.
Open Access
This article is distributed under the terms of the Creative Commons Attribution 4.0 International License (
http://​creativecommons.​org/​licenses/​by/​4.​0/​
), which permits unrestricted use, distribution, and reproduction in any medium, provided you give appropriate credit to the original author(s) and the source, provide a link to the Creative Commons license, and indicate if changes were made. The Creative Commons Public Domain Dedication waiver (
http://​creativecommons.​org/​publicdomain/​zero/​1.​0/​
) applies to the data made available in this article, unless otherwise stated.