03.06.2020 | Original Article | Ausgabe 3/2021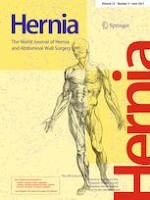 Robotic assisted eTEP ventral hernia repair: Brazilian early experience
Zeitschrift:
Autoren:

A. L. G. Morrell, A. C. Morrell, L. T. Cavazzola, G. S. S. Pereira, J. M. Mendes, R. Z. Abdalla, R. B. Garcia, T. N. Costa, A. C. Morrell-Junior, F. Malcher
Wichtige Hinweise
Publisher's Note
Springer Nature remains neutral with regard to jurisdictional claims in published maps and institutional affiliations.
Abstract
Purpose
The enhanced view totally extraperitoneal (eTEP) concept first applied to inguinal hernias has become an important tool in the armamentarium of ventral hernia repair. The purpose of this report is to date the first brazilian robotic-assisted eTEP ventral hernia repair case series.
Methods
A review of a prospectively maintained database was conducted in patients who underwent robotic-assisted enhanced view totally extraperitoneal (eTEP) for ventral hernia repair between June 2018 and January 2020. Patients demographics, preoperative hernia characteristics, intraoperative variables and postoperative outcomes were evaluated.
Results
Our review identified 74 patients submitted to the procedure. Thirty-one patients (41.8%) presented primary ventral hernias (PVHs) and 43 patients (58.2%) presented incisional hernias (IHs). Female patients were predominant in both groups PVHs and IHs with 17 (22.9%) and 22 (29.7%) respectively, with a total of 39 patients (52.7%). Mean BMI was 29.1 kg/m2 (range 21.3–48.0 kg/m2) with higher mean BMI rates of 30.3 kg/m2 in the IHs group (range 22–48 years). A lateral dock setup was utilized in 55 cases (74.4%), having the inferior and superior dock setup in 18 (24.3%) and 1 (1.3%) cases respectively. Mean console time was 148.3 (range 75–277 min) and 192.6 min (range 66–301 min) in the PVHs and IHs groups respectively. There were no intraoperative complications or conversions. Average length of stay was 1.5 days. Four patients were readmitted within 30 days of surgery. There were no reoperation or cases of intraparietal herniation in this cohort. No hernia recurrence was verified during the mean 230.7 days of follow up in both groups.
Conclusion
We present the first brazilian series to-date of the robotic assisted eTEP approach for ventral hernia repairs. Although long term outcomes require further analysis, its feasibility and reproducibility in experienced surgeons hands are evident, with safe and acceptable early postoperative outcomes.