20.05.2016 | Original Scientific Report | Ausgabe 10/2016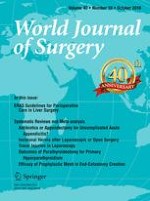 Robotic-Assisted Pancreatic Resections
Zeitschrift:
Autoren:

Ugo Boggi, Niccolò Napoli, Francesca Costa, Emanuele F. Kauffmann, Francesca Menonna, Sara Iacopi, Fabio Vistoli, Gabriella Amorese
Abstract
Background
Robotic assistance enhances surgical dexterity and could facilitate wider adoption of laparoscopy for pancreatic resections (PR).
Methods
Data were prospectively entered into a database and analyzed retrospectively to assess feasibility and safety of robotic-assisted PR (RAPR). Additionally, robotic-assisted pancreaticoduodenectomy (RAPD) was compared to a contemporary group of open pancreaticoduodenectomies (OPD).
Results
Between October 2008 and October 2014, 200 consecutive patients underwent RAPR. Three procedures were converted to open surgery (1.5 %), despite 14 patients required associated vascular procedures. RAPD was performed in 83 patients (41.5 %), distal pancreatectomy in 83 (41.5 %), total pancreatectomy in 17 (8.5 %), tumor enucleation in 12 (6 %), and central pancreatectomy in 5 (2.5 %). Thirty-day and 90-day mortality rates were 0.5 and 1 %, respectively. Both deaths occurred after RAPD with vein resection. Complications occurred in 63.0 % of the patients (≥Clavien-Dindo grade IIIb in 4 %). Median comprehensive complication index was 20.9 (0-26.2). Incidence of grade B/C pancreatic fistula was 28.0 %. Reoperation was required in 14 patients (7.0 %). The risk of reoperation decreased after post-operative day 20 (OR 0.072) (
p
= 0.0015). When compared to OPD, RAPD was associated with longer mean operative time (527.2 ± 166.1 vs. 425.3 ± 92.7; <0.0001) but had an equivalent safety profile. The median number of examined lymph nodes (37; 28.8–45.3 vs. 36; 28–52.8) and the rate of margin positivity in patients diagnosed with pancreatic cancer were also similar (12.5 vs. 45.5 %).
Conclusions
RAPR, including RAPD, are safely feasible in selected patients. The results of RAPD in pancreatic cancer are encouraging but deserve further investigation.