01.12.2015 | Research article | Ausgabe 1/2015 Open Access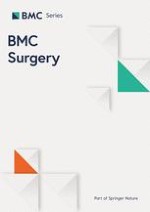 Robotic colorectal surgery for laparoscopic surgeons with limited experience: preliminary experiences for 40 consecutive cases at a single medical center
Zeitschrift:
Autoren:

Ching-Wen Huang, Yung-Sung Yeh, Cheng-Jen Ma, Tak-Kee Choy, Ming-Yii Huang, Chun-Ming Huang, Hsiang-Lin Tsai, Wen-Hung Hsu, Jaw-Yuan Wang
Wichtige Hinweise
Competing interests
The authors declare that they have no competing interests.
Authors' contributions
CWH analyzed the data and wrote the manuscript. YSY, CJM, TKC, MYH, CMH, HLT, WHH, and YSH made substantial contributions in data acquisition, statistical analyses, and data interpretation, and helped in manuscript preparation. JYW participated in study design and coordination. All authors have read and approved the final manuscript.
Abstract
Background
We present our preliminary experiences and results for forty consecutive patients with colorectal cancer (CRC) who were treated by robotic surgery.
Methods
Between May 2013 and September 2014, forty patients with CRC received robotic surgery at a single institution. The clinicopathological features and perioperative parameters were retrospectively analyzed.
Results
Of the 40 patients with CRC, 33 (82.5 %) had rectal cancers, and 22 (66.7 %) of those 33 patients also underwent pre-operative concurrent chemoradiotherapy (CCRT). The two most frequent surgical procedures were intersphincteric resection (ISR) with coloanal anastomosis (16/40, 40 %) and lower anterior resection (LAR) (15/40, 37.5 %). Among all 40 patients, the median time to first flatus passage was 2 days. The median time to soft diet resumption was 4 days. The median post operative hospital stay was 7 days. The overall complication rate was 20 % (8/40 patients), of which most of the complications were mild, although one laparotomy was required to check for post-operative bleeding. There was no 30-day hospital mortality, nor conversion to open surgery and laparoscopy.
Conclusion
We present our preliminary experiences of robotic colorectal surgery and demonstrate that robotic colorectal surgery is a safe and feasible surgery even when conducted by laparoscopic surgeons with limited experience.