01.12.2018 | Research | Ausgabe 1/2018 Open Access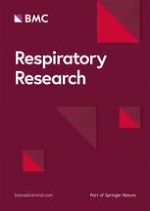 Role and regulation of Abelson tyrosine kinase in Crk-associated substrate/profilin-1 interaction and airway smooth muscle contraction
Zeitschrift:
Autoren:

Yinna Wang, Alyssa C. Rezey, Ruping Wang, Dale D. Tang
Abstract
Background
Airway smooth muscle contraction is critical for maintenance of appropriate airway tone, and has been implicated in asthma pathogenesis. Smooth muscle contraction requires an "engine" (myosin activation) and a "transmission system" (actin cytoskeletal remodeling). However, the mechanisms that control actin remodeling in smooth muscle are not fully elucidated. The adapter protein Crk-associated substrate (CAS) regulates actin dynamics and the contraction in smooth muscle. In addition, profilin-1 (Pfn-1) and Abelson tyrosine kinase (c-Abl) are also involved in smooth muscle contraction. The interplays among CAS, Pfn-1 and c-Abl in smooth muscle have not been previously investigated.
Methods
The association of CAS with Pfn-1 in mouse tracheal rings was evaluated by co-immunoprecipitation. Tracheal rings from c-Abl conditional knockout mice were used to assess the roles of c-Abl in the protein-protein interaction and smooth muscle contraction. Decoy peptides were utilized to evaluate the importance of CAS/Pfn-1 coupling in smooth muscle contraction.
Results
Stimulation with acetylcholine (ACh) increased the interaction of CAS with Pfn-1 in smooth muscle, which was regulated by CAS tyrosine phosphorylation and c-Abl. The CAS/Pfn-1 coupling was also modified by the phosphorylation of cortactin (a protein implicated in Pfn-1 activation). In addition, ACh activation promoted the spatial redistribution of CAS and Pfn-1 in smooth muscle cells, which was reduced by c-Abl knockdown. Inhibition of CAS/Pfn-1 interaction by a decoy peptide attenuated the ACh-induced actin polymerization and contraction without affecting myosin light chain phosphorylation. Furthermore, treatment with the Src inhibitor PP2 and the actin polymerization inhibitor latrunculin A attenuated the ACh-induced c-Abl tyrosine phosphorylation (an indication of c-Abl activation).
Conclusions
Our results suggest a novel activation loop in airway smooth muscle: c-Abl promotes the CAS/Pfn-1 coupling and actin polymerization, which conversely facilitates c-Abl activation. The positive feedback may render c-Abl in active state after contractile stimulation.