01.12.2017 | Research article | Ausgabe 1/2017 Open Access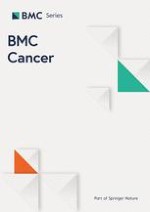 Role of adjuvant chemotherapy in locally advanced rectal cancer with ypT0-3N0 after preoperative chemoradiation therapy and surgery
Zeitschrift:
Autoren:

Chang Gon Kim, Joong Bae Ahn, Sang Joon Shin, Seung Hoon Beom, Su Jin Heo, Hyung Soon Park, Jee Hung Kim, Eun Ah Choe, Woong Sub Koom, Hyuk Hur, Byung Soh Min, Nam Kyu Kim, Hoguen Kim, Chan Kim, Inkyung Jung, Minkyu Jung
Wichtige Hinweise
Electronic supplementary material
Abbreviations
AJCC
American Joint Committee on Cancer
LARC
Locally advanced rectal cancer
PET
Positron emission tomography
TME
Total mesorectal excision
Background
Total mesorectal excision (TME) has substantially contributed to improvement in loco-regional recurrence rates and survival for patients with rectal cancer [
1
]. In addition, benefits in local disease control, toxicity, and sphincter preservation have been achieved by preoperative chemoradiation therapy (CRT), which is the currently standard management for locally advanced rectal cancer (LARC) [
2
]. Therefore, the focus on improving outcomes has changed from lowering the local recurrence rate to reducing distant recurrence, which still occurs in approximately one-third of patients treated surgically with curative intent [
3
]. In colon cancer, adjuvant single agent 5-fluorouracil (5-FU) chemotherapy has led to an increase in overall survival (OS), of approximately 10% for patients with American Joint Committee on Cancer (AJCC) stage III disease and a further 5% by adding oxaliplatin [
4
–
7
]. Based on this background, many researchers have tried to extrapolate the benefits of adjuvant chemotherapy (AC) for colon cancer to the treatment of rectal cancer. Even if a surgical specimen obtained from radical resection reveals a complete response without any viable tumor cells, the patient is expected to complete 4–6 months of AC based on their clinical stage, which was estimated before preoperative treatment [
8
,
9
].
However, the efficacy of AC in patients with LARC after preoperative CRT and TME has not been documented to the same extent, and the clinical benefit remains controversial [
10
]. In this context, international and national treatment guidelines differ in their recommendations regarding to AC in LARC [
11
,
12
]. The initial results of the EORTC 22921 trial indicated that only patients with a good prognosis (ypT0–2) benefited from AC [
13
]. However, the final results indicated that adjuvant 5-FU-based chemotherapy after preoperative radiotherapy with or without chemotherapy did not improve disease-free survival (DFS) and OS in all patients, including patients with a good prognosis (ypT0–2) [
14
]. In contrast, patients with a high risk for recurrence (yp stage III) benefited from adding oxaliplatin to 5-FU as AC after preoperative 5-FU-based CRT and TME [
15
]. With these heterogeneous results about the role of AC, we aimed to investigate the value of AC with fluoropyrimidine mono-therapy after preoperative CRT and TME in ypT0-3N0 patients, who are considered to have a good prognosis.
Methods
Patients and pretreatment evaluation
Patients who were diagnosed with LARC, were treated with preoperative CRT and TME, and had ypT0-3N0M0 as the final pathologic diagnosis at Yonsei Cancer Center between January 2001 and December 2013 were included. Patients who underwent trans-anal excision and received AC with oxaliplatin were excluded.
Pathologic diagnosis by biopsy was performed for all patients before treatment. To determine the clinical stage, the pretreatment evaluation involved a physical examination including a digital rectal examination; carcinoembryonic antigen (CEA); abdomino-pelvic computed tomography (CT); chest CT; rectal magnetic resonance imaging; and positron emission tomography (PET)-CT, when there was a suspicion of distant metastasis. Clinical and pathologic staging were determined according to the AJCC TNM staging system, 7th edition [
16
].
Treatment and follow-up
Preoperative radiation therapy involved a total of 45–50.4 Gray radiation delivered in 25–28 fractions to the tumor and drained lymph node. Preoperative chemotherapy with concurrent radiotherapy included 5-FU administered as a 400-mg/m 2 bolus and leucovorin administered as a 20-mg/m 2 bolus during the first and last weeks of radiotherapy or 850-mg/m 2 capecitabine twice a day during the entire period of radiotherapy. Surgical resection with TME was performed 4–8 weeks after completion of the CRT.
AC consisted of 5-FU administered as a 400-mg/m 2 bolus and leucovorin administered as a 20-mg/m 2 bolus on days 1–5 every 28 days for 4 cycles or 1250-mg/m 2 capecitabine twice a day on days 1–14 every 21 days for 5 cycles. The chemotherapeutic agents were the same as those used in the preoperative CRT.
Patients were followed at 3-month intervals during the first 2 years after surgery, at 6-month intervals during the next 3 years, and annually thereafter. At each visit during the regular follow-ups, a serum CEA assay was performed. Abdomino-pelvic CT was performed at 6-month intervals, chest CT was performed at 12-month intervals, and both were performed annually after 5 years. If recurrence was suspected, the follow-up examinations included a clinical evaluation, physical examination, serum CEA assay, chest CT, abdomino-pelvic CT, colonoscopy, and PET, as appropriate. Recurrence was determined using clinical and radiological examinations or histological assessment.
Statistical analysis
To evaluate the benefit of AC for patients with LARC treated with preoperative CRT and TME, we compared survival between the patients with AC (adjuvant group) and those without AC (observation group). To reduce the effect of treatment-selection bias and simulate the effects of randomization, propensity score matching was used. Propensity scores were estimated using a logistic regression model based on age, sex, tumor location, histologic differentiation, pretreatment CEA level, surgical procedure, pathologic stage, number of retrieved lymph nodes, lymphovascular or perineural invasion, and margin involvement. One-to-one matching without replacement was performed using a 0.2 caliper width, and the resulting score-matched pairs were used in subsequent analyses, as indicated.
The statistical significance of differences was assessed using the Chi-square test for categorical variables and Wilcoxon rank sum test for continuous variables unless specifically mentioned. OS was defined as the time from the date of surgery to the date of death from any cause. DFS was defined as the time from the date of surgery to the detection of recurrent disease or death, whichever occurred first. Survival curves were generated using the Kaplan-Meier method, and survival was compared using Cox regression analysis. To identify the subpopulations that benefited from AC, subgroup analysis was performed by stratifying patients according to patient demographics and tumor characteristics in the entire sample as well as the propensity score-matched cohort. All analyses were conducted with the statistical program R (R Foundation for Statistical Computing, Vienna, Austria). All
P
-values are two-sided, and
P
< 0.05 was used to denote statistical significance.
Results
Discussion
Conclusions
In summary, LARC patients with ypT0-3N0 did not benefit from AC after preoperative CRT and TME, which supports the findings of previous studies investigating the role of AC after preoperative CRT and TME and the conclusions of meta-analyses. However, there are conflicting results about the use of AC from many studies with diverse patient populations. Based on this context, a more intensive investigation is needed to evaluate the potential advantages and drawbacks of AC in the era of preoperative CRT and TME. Moreover, future studies should focus on identifying patient subpopulations that benefit from AC.
Acknowledgements
The authors thank Dong-Su Jang for graphical assistance (Medical Research Support section, Yonsei University College of Medicine, Seoul, Korea), and Su Kyoung Park for data management assistance (Analysis Division of Medical Record Team, Yonsei Cancer Center, Seoul, Korea).
Funding
This work was supported in part by a grant from the National R&D Program for Cancer Control, Ministry of Health and Welfare, Republic of Korea (1420270) and National Research Foundation, Ministry of Science, ICT and Future Planning, Republic of Korea (2015R1C1A1A01053547), which provided financial support for writing and editing the manuscript. The funding bodies were not involved in design of the study, collection, analysis, and interpretation of the data.
Availability of data and materials
The dataset supporting the conclusions of this article is available upon request from the corresponding author.
Ethics approval and consent to participate
The study was approved by the institutional review board of Yonsei Cancer Center, Seoul, Korea. Written informed consent was obtained before treatment from patients.
Consent for publication
Not applicable.
Competing interests
The authors declare that they have no competing interests.
Publisher's Note
Springer Nature remains neutral with regard to jurisdictional claims in published maps and institutional affiliations.
Open Access
This article is distributed under the terms of the Creative Commons Attribution 4.0 International License (
http://​creativecommons.​org/​licenses/​by/​4.​0/​
), which permits unrestricted use, distribution, and reproduction in any medium, provided you give appropriate credit to the original author(s) and the source, provide a link to the Creative Commons license, and indicate if changes were made. The Creative Commons Public Domain Dedication waiver (
http://​creativecommons.​org/​publicdomain/​zero/​1.​0/​
) applies to the data made available in this article, unless otherwise stated.