28.03.2019 | Review | Ausgabe 3-4/2019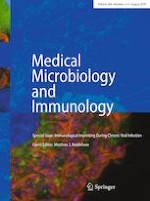 Role of antibodies in confining cytomegalovirus after reactivation from latency: three decades' résumé
Zeitschrift:
Autoren:

Astrid Krmpotić, Jürgen Podlech, Matthias J. Reddehase, William J. Britt, Stipan Jonjić
Wichtige Hinweise
Edited by: Sebastian Voigt.
This article is part of the Special Issue on Immunological Imprinting during Chronic Viral Infection.
Publisher's Note
Springer Nature remains neutral with regard to jurisdictional claims in published maps and institutional affiliations.
Abstract
Cytomegaloviruses (CMVs) are highly prevalent herpesviruses, characterized by strict species specificity and the ability to establish non-productive latent infection from which reactivation can occur. Reactivation of latent human CMV (HCMV) represents one of the most important clinical challenges in transplant recipients secondary to the strong immunosuppression. In addition, HCMV is the major viral cause of congenital infection with severe sequelae including brain damage. The accumulated evidence clearly shows that cellular immunity plays a major role in the control of primary CMV infection as well as establishment and maintenance of latency. However, the efficiency of antiviral antibodies in virus control, particularly in prevention of congenital infection and virus reactivation from latency in immunosuppressed hosts, is much less understood. Because of a strict species specificity of HCMV, the role of antibodies in controlling CMV disease has been addressed using murine CMV (MCMV) as a model. Here, we review and discuss the role played by the antiviral antibody response during CMV infections with emphasis on latency and reactivation not only in the MCMV model, but also in relevant clinical settings. We provide evidence to conclude that antiviral antibodies do not prevent the initiating molecular event of virus reactivation from latency but operate by preventing intra-organ spread and inter-organ dissemination of recurrent virus.