01.12.2019 | Original research article | Ausgabe 1/2019 Open Access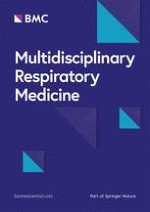 Role of blood glucose and fat profile in lung function pattern of Indian type 2 diabetic subjects
Zeitschrift:
Autoren:

Morteza A. Khafaie, Sundeep S. Salvi, Chittaranjan S. Yajnik, Fakher Rahim, Behzad Khafaei
Abstract
Background and objectives
It has been hypothesized that changes in lung function can occur in patients with diabetes. Nevertheless, it is unclear how much of this correlation links with biomarkers of metabolism disorder. We have investigated the association between hypoglycaemic and fat profile with lung function in Indian diabetic subjects.
Design
Prospective observational study.
Setting
Diabetes care unit of King Edward Memorial (KEM) hospital.
Patients
Out of 465 patients who agreed to participate in this study, valid lung function data were available from 347 Type 2 diabetic subjects.
Measurements
Pulmonary function test including predicted forced vital capacity (% FVC), predicted forced expiratory volume in 1 second (% FEV1) and FEV1/FVC ratio were assessed. We also examined fat profile, glucose, HbA1c, hemoglobin and other hematological parameters.
Results
Four hundred sixty-five subjects aged 55 ± 11 participated in the study. Predicted forced vital capacity, % FEV1 and FEV1/FVC ratio was 85.88 ± 13.53, 85.87 ± 14.06 and 82.03 ± 6.83, respectively. Also, approximately 8 to 17% of the participant reported having at least one chronic respiratory symptom or lung disease. We found that high glycaemic measures (i.e. fasting and post-meal plasma glucose) are linked with dyspnea. In addition, HDL (high-density lipoprotein) concentration was directly associated with % FVC.
Conclusions
It is difficult to draw a clear conclusion about the cause-effect relationship or clinical impact based on this study alone. However, identification of clinically meaningful elements for developing a screening program is critical.