01.12.2017 | Research | Ausgabe 1/2017 Open Access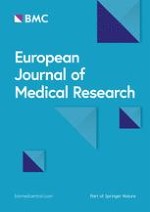 Role of carbonyl sulfide in acute lung injury following limb ischemia/reperfusion in rats
Zeitschrift:
Autoren:

Yan-Rui Zhao, Wen-Rui Lv, Jun-Lin Zhou
Abstract
Objective
To investigate the effect of carbonyl sulfide (COS) on limb ischemia/reperfusion (I/R)-induced acute lung injury (ALI) and the associated mechanism in rats.
Methods
ALI was induced by bilateral hind limb I/R in Sprague–Dawley (SD) rats. Sixty-four SD rats were randomly divided into the control group, I/R group, I/R + COS group, and I/R + AIR group. We observed the survival rate of the rats and the morphological changes of lung tissues, and we measured the change in the lung coefficient, the expression levels of the intercellular adhesion factor-1 (ICAM-1) protein in lung tissue, the expression of tumor necrosis factor (TNF)-α, interleukin (IL)-lβ, and interleukin (IL)-6 in both lung tissue and serum, and cell apoptosis.
Results
Limb I/R caused significant lung tissue damage. The number of polymorphonuclear neutrophil in alveolar septa, the expression level of the ICAM-1 protein in lung tissue, the expression levels of TNF-α, IL-1, and IL-6 in lung tissue and serum, the lung coefficient, and cell apoptosis all increased. When a low dose of COS gas was administered prior to limb I/R, the variation of the above indicators was significantly reduced, while an increase in the dose of COS did not reduce the lung injury but rather increased the mortality rate.
Conclusion
Carbonyl sulfide is another new gaseous signaling molecule, and a low dose of exogenous COS may play a protective role in I/R-induced ALI by acting as an anti-inflammatory agent by promoting the production of antioxidants and by inhibiting the expression of adhesion molecule proteins.