06.05.2019 | Original Article | Ausgabe 4/2019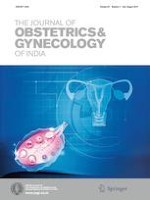 Role of Chromohysteroscopy in Evaluation of Endometrial Pathology Using Methylene Blue Dye
Zeitschrift:
Autoren:

Taru Gupta, Sonam Singh, Anand Kumar Verma
Wichtige Hinweise
Dr Taru Gupta MS, DNB, is a Professor and Head, Obstetrics and Gynaecology, ESI PGIMSR Basaidarapur New Delhi; Dr Sonam Singh is a Post Graduate student Obstetrics & Gynaecology at ESI PGIMSR Basaidarapur, New Delhi; Dr Anand Kumar Verma MD is a Professor Pathology in ESI PGIMSR Basaidarapur New Delhi.
Publisher's Note
Springer Nature remains neutral with regard to jurisdictional claims in published maps and institutional affiliations.
Abstract
Background
Chromohysteroscopy is expected to help in diagnosing subtle endometrial pathologies which could be missed on conventional hysteroscopy and also help in targeting biopsy from endometrium.
Objective
To study staining pattern of endometrium in patients undergoing chromohysteroscopy and to evaluate and compare the histopathology of chromohysteroscopy-guided endometrial biopsy with conventional endometrial sampling.
Method
This was a cross-sectional study conducted during the period of 18 months in Department of Obstetrics and Gynaecology, ESI PGIMSR, New Delhi, India, from September 2016 to February 2018. Totally, 60 women with complaints of infertility, failed intrauterine insemination (IUI), recurrent spontaneous abortions (RSA), heavy menstrual bleeding (HMB), intermenstrual bleeding (IMB) and postmenopausal bleeding (PMB) meeting inclusion criteria were evaluated and enrolled in the study. In patients with normal looking endometrium on hysteroscopy, methylene blue dye was administered through the hysteroscopic inlet. Tissue samples were obtained from stained areas followed by blind endometrial sampling immediately. The results of chromohysteroscopy-guided biopsy from light- and dark-blue-stained areas and blind biopsy were compared.
Results
Mean age of the study group was 37 years, with mean BMI of 24 kg/m2. There were 24 cases of HMB, 9 of IMB, 7 of PMB, 15 of infertility, 2 of failed IUI and 3 with RSA. On chromohysteroscopy, 39(65%) cases showed light-stained endometrium (group I) and 21(35%) showed dark-stained endometrium (group II). Comparison was done between histopathology obtained through chromohysteroscopy and blind endometrial sampling. The diagnostic accuracy of chromohysteroscopy-guided endometrial biopsy in evaluation of endometrial pathology was 86.67% with sensitivity of 91.67%, specificity of 85.41%, PPV of 61.12% and NPV of 97.61% (P <0.001).
Conclusion
Chromohysteroscopy was able to detect endometrial pathology which was missed on conventional hysteroscopy and detected more cases of endometrial pathology than blind endometrial sampling.