01.03.2012 | Original Article | Ausgabe 3/2012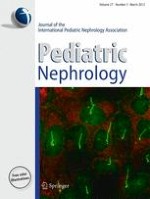 Role of circulating fibroblast growth factor-2 in lipopolysaccharide-induced acute kidney injury in mice
Zeitschrift:
Autoren:

Parnell C. Mattison, Ángel A. Soler-García, Jharna R. Das, Marina Jerebtsova, Sofia Perazzo, Pingtao Tang, Patricio E. Ray
Abstract
Fibroblast growth factor-2 (FGF-2) is an angiogenic growth factor involved in renal growth and regeneration. Previous studies in rodents revealed that single intrarenal injections of FGF-2 improved the outcome of acute kidney injury (AKI). Septic children usually show elevated plasma levels of FGF-2, and are at risk of developing AKI. However, the role of circulating FGF-2 in the pathogenesis of AKI is not well understood. We have developed a mouse model to determine how FGF-2 released into the circulation modulates the outcome of AKI induced by lipopolysaccharide (LPS). Young FVB/N mice were infected with adenoviruses carrying a secreted form of human FGF-2 or control
LacZ
vectors. Subsequently, when the circulating levels of FGF-2 were similar to those seen in septic children, mice were injected with a non-lethal dose of LPS or control buffer. All mice injected with LPS developed hypotension and AKI, from which they recovered after 5 days. FGF-2 did not improve the outcome of AKI, and induced more significant renal proliferative and apoptotic changes during the recovery phase. These findings suggest that circulating FGF-2 may not necessarily prevent the development or improve the outcome of AKI. Moreover, the renal accumulation of FGF-2 might cause further renal damage.